Gary Speed death: Warrington inquest adjourned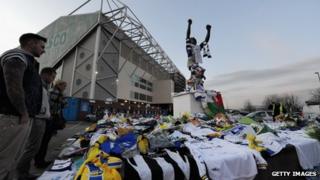 An inquest on Wales football manager Gary Speed has been told that his wife found him hanged at home.
The hearing was adjourned in Warrington, Cheshire, following the post-mortem examination on Speed, 42.
The inquest was told that Louise Speed found the body just before 7am on Sunday and called the ambulance service, but police are not treating the death as suspicious.
The inquest on the ex-Premier League player was adjourned to 30 January.
The hearing was also told that reports are being awaited from the pathologist.
Earlier, politicians in the Welsh assembly observed a minute's silence in his honour after the discovery of his body on Sunday stunned Wales and the sporting world.
A tribute will also be staged before Tuesday night's cup tie between Cardiff City and Blackburn Rovers.
In a statement issued on Monday afternoon Speed's family said they had been overwhelmed by the support they have received following his death.
'Overwhelmed'
Speaking outside the family's home Hayden Evans, Speed's agent, said: "Gary's family would sincerely like to thank all the people that have sent messages of condolence and tributes in what is a very difficult time.
"We have been overwhelmed by the support and it really has helped.
"We would ask that the family are now given the respect of some privacy to just grieve on their own."
Mr Evans later told BBC Wales that the support had made a difference "albeit a small difference".
He said there was no indication anything was wrong.
"We spoke on Friday, everything was normal," said Mr Evans. "We speak regularly and meet regularly and there were no tell-tale signs and that's what's made it all the more shocking."
Tributes to the former Leeds United, Everton and Newcastle United midfielder, have continued to pour in from public and sporting figures.
On a visit to Manchester, Prime Minister David Cameron said: "I think it has been incredibly moving.
"I was watching Match Of The Day last night and watching people, crowds, absolutely silent and footballers revering his memory.
"Obviously here in the north, where he played for so many of the iconic teams, I know he meant an enormous amount to people and people feel very, very sad on his behalf and on his family's behalf."
MPs from all parties in the House of Commons tabled a motion offering the House's sympathies to Speed's wife and two sons.
It also demanded a "greater understanding of the pressures placed on those in the media spotlight and of mental health issues in general".
The Early Day Motion hails Wales' "significant progress under his guidance" in the 11 months since Speed was appointed manager and recognises his "inspiring effect on players and supporters alike".
It also calls for appreciation of the "sorrow and loss his death has left among players and football supporters across Wales and beyond".
Flowers
The flags outside the Welsh assembly in Cardiff Bay are flying at half-mast as a mark of respect.
Supporters have left scarves, football shirts and flowers across several football stadiums - including Everton's Goodison Park, at Leeds United's Elland Road, Newcastle United's St James' Park, the Millennium Stadium and Cardiff City Stadium, where Wales played their home games.
Speaking on Tuesday night, Cardiff City manager Malky McKay said: "I'm sure the correct tribute and respect will be paid towards Gary.
"Our fans are fantastic. They will do exactly what I think they'll do in terms of tributes, be it silence or applause."
The FAW has opened a book of remembrance at its offices in Cardiff, which will be open from 09:00 to 16:00 GMT, and online.
Speed enjoyed a long and distinguished playing career which included periods with Everton, Newcastle, Bolton, Sheffield United and Leeds, where he won the First Division title in 1992, the year before it became the Premier League.
He was also Wales' most capped outfield player, winning 85 international caps, and managed Sheffield United before becoming Wales boss in December 2010.
After a difficult start, Wales' 4-1 friendly win over Norway on 12 November was his side's third successive win.
Cheshire Police said on Sunday that Speed's body was discovered at his home in Huntington, near Chester.
Officers said there were no suspicious circumstances.