£2.4m to boost heritage tourism at Welsh historic sites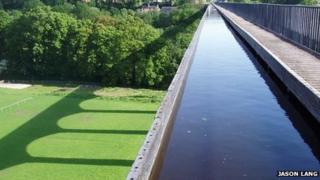 A total of £2.4m has been awarded for historic sites in Wales to help build on heritage tourism.
More than £1m will be used to make the most of historic places associated with Gwynedd's slate quarries and religious sites.
There are also plans to open up more of the Bronze Age copper mine on Llandudno's Great Orme.
And £520,000 will be used to give access to Swansea's Hafod Copperworks site.
The money from Welsh heritage body Cadw will be used to restore some of the features and create tourist trails, building on the city's 200-year-old copper heritage.
The funding comes from the Welsh government's £19m heritage tourism project, which is backed with £8.5m of European funding.
Heritage Minister Huw Lewis said the money will help projects to develop facilities to "tell Wales' story" and give people a better understanding of Wales' history and culture from different periods.
"Tourism is an extremely important contributor to the Welsh economy and Wales' striking and diverse historic environment is the reason many visitors come to Wales," he said.
Conwy and Gwynedd councils are working together on a number of projects worth £1.4m in total, covering industrial heritage, principally the quarrying industry, prehistory and pilgrimage.
Officials are hoping to improve access at the Great Orme Mines, a Bronze Age copper mine uncovered in 1987 during landscaping on Llandudno's Great Orme.
They also want to improve facilities and interpretation at places such as the old Quarry Hospital overlooking Llyn Padarn at Llanberis, Gwynedd, and other sites associated with the county's slate history.
And they plan to start an oral history project looking back on Conwy's fishing industry as well as developing a pilgrim's trail from Llansanan to Bardsey Island although this could be extended.
Work on Swansea's Hafod Copperworks could start early next year, in a project involving the council and Swansea University.
Prof Huw Bowen, who is leading the university project team, said: "The market for heritage tourism in Swansea is very real and is waiting to be tapped.
"This scheme will make the site accessible once again and will help tell the story of Swansea's rich industrial history."
Pembrokeshire National Park Authority has received £171,000 for a project to turn the site of Castell Henllys, an Iron Age hill fort, into a hub explaining the origins and prehistory of Wales.
A replica of the hill fort with a replica of Iron Age roundhouses built right has been built at the site which dates back 2,400 years.