Doctor Who's Russell T Davies quits to care for partner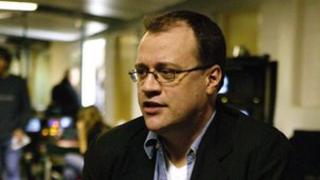 Russell T Davies, the writer who brought Doctor Who back to TV, has put his career on hold indefinitely following his partner's diagnosis with brain cancer.
He and Andrew Smith have left their base in Los Angeles and returned to their former home in Manchester.
Mr Smith has already had surgery and faces months of chemotherapy.
Mr Davies had been working on a new series called Cucumber, a BBC Worldwide and US network collaboration.
The Swansea-born writer told PinkNews.co.uk the TV companies had both been accommodating and sympathetic to his situation.
He said the couple's life in LA had "closed down overnight" following the diagnosis, which came after Smith complained of severe headaches.
"When we got the results they told us he had cancer of the brain," he said.
"They needed to operate straightaway. Three days later he was having surgery.
"That's where we are now.
"He's had 30 consecutive days of radiotherapy and chemotherapy, and we've got six months of chemotherapy ahead of us."
Returning to Manchester means they are close to The Christie, a specialist cancer hospital.
Specialist care
The writer said: "Lo and behold, we're now a 10-minute drive from Europe's best cancer hospital."
He is also famed for his work on shows such as Queer As Folk and for creating Doctor Who spin-off Torchwood, but has taken a step back from his writing.
He said: "It was a simple decision - he's more important."
"I don't know when I'll start work again. I've got to see how Andrew's health goes."