Crunch Christmas: Cowbridge unites for retail survival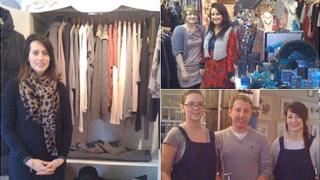 With a street full of designer shops and boutiques, Cowbridge has been labelled the Bond Street of Wales and a mecca for "ladies who lunch".
A quick walk down the market town's High Street certainly gives shoppers the impression that if they are looking for a quick bargain in Primark or New Look, they are in the wrong place.
Instead of the high street giants like Marks and Spencer and Boots, exclusive boutiques, family-run independent stores and quirky cafes stand proudly on a street that locals say is "special" and "different from the rest".
But, as traders are quick to point out, "the streets here are not paved in gold" and the Vale of Glamorgan town is battling just as hard as every other shopping centre to survive in a tougher-than-normal economic climate.
In the run up to Christmas, that battle is hotting up, with competition from the ever-expanding shopping centre of Cardiff, which is just a 20 minute drive away, and the nearby retail outlets of Bridgend.
Many people are having to make their money stretch further, so expensive boutiques may not be on the top of their shopping lists.
And although Cowbridge does not have the boarded-up shops and 'to let' signs that are becoming common in many towns and city centres, it does have empty shops - a sign that all might not be well.
'Difficult times'
Natalie Isaac, who has owned the Quarter Penny Cafe, formerly called Farthings, for 11 years said she has noticed a change in her customers this year.
"Times are really difficult. We don't see many people with shopping bags anymore, which suggests they just come here for lunch and maybe to window shop," said Ms Isaac, who is an active member of the Cowbridge Chamber of Trade.
"We used to see people coming in laden down with bags coming up to Christmas but last week we hardly saw any.
"I'd say footfall is also distinctly down. It used to be so busy here on a Saturday that you'd have to step aside to let people pass on the street. But we only get that now when there are events on, like the food festival or reindeer parade."
But it is these events - and a strong local community - that gives Cowbridge's shop keepers a belief that they can compete with a nearby shop-til-you-drop capital city.
'Be proactive'
Debbie Cooke, founder of the town's community networking website Hub Cowbridge, said many businesses in the town are now joining together to stage events that promote the town's "uniqueness".
"People are having to work really hard to survive. But it's the people who realise that and don't take a defeatist attitude but take a "how can we help ourselves" attitude that do well," said Ms Cooke.
She has set up her website to provide a platform for the town's different groups, including retailers, to network and share information.
"The more forward-thinking retailers know they need to be proactive and that the customer won't just come to you anymore.
"They join together with other businesses to hold events, such as the book festival and fashion week, which are new.
"We recently had three shops coming together to put on a fashion play - they are thinking outside the box and bringing people to their shops.
"They are also working hard to overturn the "ladies that lunch" image that Cowbridge has and to show that their shops aren't as expensive and exclusive as people often assume they are."
She added that many of the businesses were now embracing social networking in a bid to attract shoppers.
'Buying less'
It is something that Melissa Cowen, owner of high-end clothing boutique L'Armoire, says is invaluable for her business.
"I put all our new stock on Facebook as I often can't afford to advertise - I've only been in business for two years so I have to be creative to get people to come to me," she said.
"I suppose a few people are spending less now but, in my point of view of view, it reflects in people buying more carefully. Rather than buying throw-away fashion, they want to buy something that will last."
More established shops are also changing with the times - with some even opening on Sundays, which for years retailers managed to avoid.
"We've been opening on a Sunday for about a year because we thought we needed to keep up with Cardiff and make it more flexible for shoppers," said Ceri Simmonds, of Cowbridge fashion favourite Goose Island, which has been trading for about 16 years.
"It's been really successful but we are still one of only a few shops here opening on a Sunday. I think more will have to do it soon as you can't ignore the fact it's what shoppers want."
High street chains
They might find they no longer have a choice as times are changing in Cowbridge and high street chains are slowly creeping into the town.
Waitrose is set to open next August and Costa Coffee is opening this week.
They join Tesco Extra, Country Casuals and Viyella - and many retailers are worried that it is the start of a "slippery slope".
"It is a very big worry and they will obviously affect people who have been here a long time as they don't have the means to compete and they are worried their rents will go up." said Ms Isaac.
Ms Cooke added: "There's a fear that more high street multiples will now come in and start pushing out the independents and we will be left with chains and charity shops.
"It happens time and time again and so far Cowbridge has managed to resist it. The independents are what set Cowbridge apart from all the other identikit towns. Once they are gone, they are so hard to get back."
But others in the town hope Waitrose in particular will bring more people into the town.
Ms Cowen said: "I think Cowbridge has survived for years with independent stores and I think it will always have its own niche. But I think Waitrose will be great for Cowbridge as it's an attraction."
Whatever the future may bring for Cowbridge, its retailers are determined to join together to fight for the town's survival.
As Badir Saidi, who opened new cafe and restaurant Arboreal, with his sister and brother-in-law 10 weeks ago, puts it: "Cowbridge has got the "wow" factor. We did a lot of research before setting up a business here and feel we offer something different - serving seasonal, local produce. All the other businesses have been really supportive.
"Yes, times are tough but it has exceeded our expectations so far. Yes, it's scary setting up a business in the current climate but I think everyone has to take a risk these days. It's a lovely town and I think people enjoy coming here."