Santa school vists cancelled in Pembrokeshire over criminal checks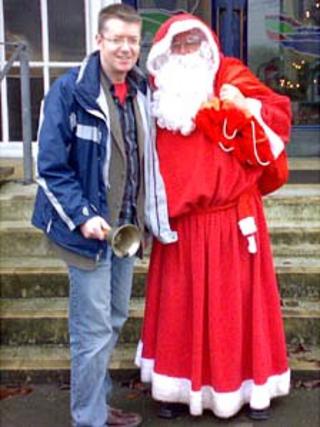 Visits by Father Christmas to some schools in Pembrokeshire have been cancelled after a ruling that he and his helpers must be vetted.
Volunteers have been told they need to be have a Criminal Records Bureau (CRB) check, but say they do not have time to go through the process.
One cancelled Santa said his visits were supervised in a busy school hall and called the ruling "crazy".
Pembrokeshire council said it wrote to schools after child protection advice.
It came after a ministerial board - which was set up by the Welsh government to oversee improvements to child protection at the authority - advised that all volunteers needed to be CRB-checked, no matter how brief their appearances at schools.
The authority said it had believed the checks were not necessary because the visits were always supervised and managed by head teachers, school staff and parents.
But the advice from the board meant the council sent out advice to schools on 7 December, leaving no time for volunteers who were not CRB-checked to go through the process.
'Gone overboard'
Fishguard and Goodwick mayor Richard Davies said he had visited about nine primary schools around the area dressed as Father Christmas for about seven years for the local Round Table.
During the visits, he said he sat in front of the whole school, including head teachers and teachers, while pupils went forward to speak to him in small groups and receive sweets.
"I'm CRB-checked but the people who come with me to help from the Round Table are not, so we've had to cancel," he said.
"It's odd to me as I'm not for one second left alone with the children and I'm sat at the front of a very busy school hall.
"When the children come up to me they come row by row and never sit on my lap. I think they have gone overboard with this."
He added: "I think the children will be very, very sad about this. These children will have been looking forward to it and they will have been preparing their little concerts, which they perform for Father Christmas.
"We all want to make sure children are protected but I think this is crazy."
Peter Devonald, chairman of the Fishguard and Goodwick Round Table, which arranges the Santa visits and donates the sweets, added: "We just do not have enough time to get CRB checked.
"And because we just do the visits over one day, it would not make sense economically for us all to be CRB checked - it's £45 each for a check."
'Safeguarding children'
Pembrokeshire council said the ruling meant some schools would have to rearrange their Christmas festivities.
"Most schools organise Christmas parties and other events which are attended by Father Christmas. These events are always supervised and managed by head teachers, school staff and parents," a spokesman said.
"From our understanding of the legislation, there is no legal requirement for people who carry out this sort of role to be formally checked with the Criminal Records Bureau (CRB) or to have two references in place.
"This is because such volunteers are normally present at the school on only one occasion for a short period of time in a supervised capacity. Such arrangements do not fall within the definition of being a 'regulated activity' under CRB guidance.
"However the view strongly expressed to the council by officials of the Welsh government is that such one-off volunteers should be fully vetted."
A ministerial board was set up to help the council overcome failings in its child protection procedures.
It followed two highly critical reports, one of which identified problems in protecting children from abuse.
A Welsh government spokesperson said neither it nor the board had given instructions about the CRB checks.
"The board has written to the authority asking for evidence that the council has in place robust checking and appointment procedures to cover any temporary Christmas staff appointments in holiday and play schemes or, where relevant, the appointment of Santa Clauses," the spokesperson said.
"The council should know when it is relevant to ask for CRB checks.
"The Pembrokeshire ministerial board's role is to provide support and challenge to the council in delivering the improvements required, including complying with appropriate legislation for safeguarding children."