North Wales Police warns drivers as snow expected to return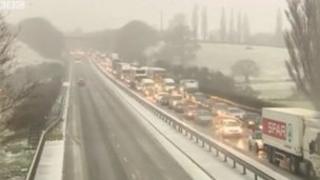 Police are warning motorists across north Wales not to venture out on the roads unless their journeys are absolutely necessary.
The warning comes as drivers across Wales faced hazardous conditions on Friday as temperatures plummeted and there was heavy snowfall in some areas.
North Wales Police say they were expecting more adverse weather to move in from the west on Friday night.
Traffic was moving again on the A55 in Denbighshire after earlier delays.
The eastbound carriageway was briefly closed at Rhuallt Hill due to snowfall on Friday morning.
The road reopened at 11:30 GMT but long queues continued throughout the day.
Wintry showers
Superintendent Andy Jenks-Gilbert said: "To date, staffing levels within the force have not been affected (by the snow) and we continue to work with our partners in the emergency services to ensure that services are not affected."
The Met Office is warning of further wintry showers overnight on Friday into Saturday, including hail, and temperatures remaining close to freezing.
Icy patches can be expected on untreated roads. Sleet and snow is expected on some of the high ground in the north.
Difficult conditions were reported on parts of the Heads of the Valleys road in Merthyr Tydfil during the day.
The Met Office issued a medium risk warning of blizzard conditions later on Friday in the Brecon Beacons.