Faster broadband for Welsh rural areas by summer 2012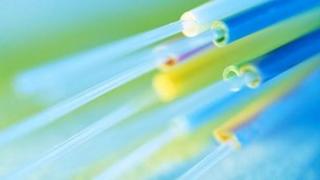 Remote villages and rural towns are among the latest places to be given access to faster broadband in Wales.
BT has announced that another 130,000 homes and businesses from 33 communities will have access to faster broadband by the summer of 2012.
They include Brecon, Builth Wells, Kidwelly, Aberystwyth, Treorchy, Gilwern, Menai Bridge and Denbigh.
Consumer Focus Wales said it was important for all areas to have broadband access.
Much of Wales has the worst broadband provision in the UK, according to a survey by the communications regulator, Ofcom.
Last month, a lack of fast broadband in remote areas was blamed by the Wales Tourism Alliance for holding back companies' ability to compete.
But BT's latest investment makes available broadband speeds of up to 20 Mbps (megabits per second) - more than double the maximum speeds previously available to the majority of UK homes and businesses - to some rural communities.
The technology delivered via copper wires is already available to more than a half of homes in Wales and is expected to have reached nearly three quarters by the summer of next year.
Consumer Focus Wales said faster broadband was important, particularly to rural areas where customers have often been unable to access the best online services.
"No-one should be unable to access services many people already take for granted just because of where they live," said Maria Battle, senior director Consumer Focus Wales.
"It is also pleasing to see the list of areas includes so many rural and valleys communities where consumers have often been unable to access the best deals and online services."
'Boost for businesses'
The latest investment is in addition to the £2.5bn BT roll-out of super-fast fibre-based broadband, which is expected to bring even faster speeds to two-thirds of UK premises by the end of 2014.
Earlier this month, the company announced it was rolling out super-fast broadband technology to 175,000 homes and businesses in Wales, including in Wrexham, Newport, Pontypridd, Prestatyn and parts of Cardiff and Swansea.
The plan is to create broadband speeds of between 40 and 100Mbps (megabits per second). The current average broadband speed in the UK is 6.8Mbps.
Ann Beynon, BT director for Wales, said: "BT's roll-out of faster broadband across Wales is running at a very rapid pace.
"At a time of economic uncertainty these major improvements will provide a big boost for local businesses and offer many additional educational and entertainment opportunities for local households."