Ruth Jones's Stella series inspired by south Wales valleys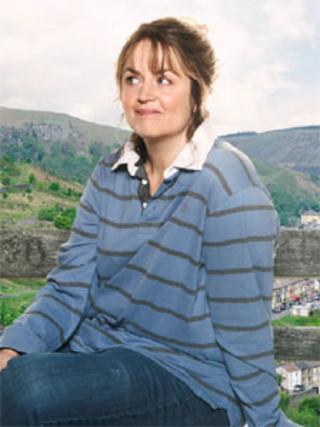 Everyday life in the south Wales valleys is the inspiration for Gavin and Stacey co-writer Ruth Jones's new comedy series Stella, which starts on Friday.
Comparisons with the hugely popular Barry Island-based comedy are therefore inevitable, but Jones has stressed there are few similarities with her new creation.
For one thing, she says the new show is more of a drama than Gavin and Stacey - more "gentle" but still funny, she insists.
And Stella the character, played by Jones is a very different creature to her fearsome Gavin and Stacey alter ego Nessa.
She is a single mother of three in the valleys, or "Pontyberry" to be exact, who firmly puts her family before any other aspirations and is "a bit under-confident", unlike Nessa.
Despite these differences, both characters are obviously inspired by south Wales - albeit different parts - along with its characters and accents.
"I think the valleys accent is beautiful," said the Bridgend-born actor and writer.
"I think it's poetic. I think the rhythms of the language are gorgeous to listen to and it was a joy to write it.
"And just the way people are there. I think all the people in Stella get up in the morning and want to have a good day.
"They don't actually want to have a rubbish day. There aren't any evil, nasty characters there.
"It's life's challenges. It's a gentle comedy drama."
'Bleached blonde hair'
It may be more gentle but Jones insists the script has had her laughing out loud in parts.
There is even a surreal moment or two, with a horse called Vinny making an appearance in unlikely places.
"My sister knows somebody who's a GP who went on a house visit somewhere in the valleys and there was a horse in the house, so it's based on truth," said Jones.
"In episode two, you see a horse with his head sticking out of the window!"
The series came about after the director of programmes at Sky1, Stuart Murphy - who had commissioned Gavin and Stacey while at BBC Three - asked Jones what "madness" was going on inside her head.
Jones said she and her husband David Peet, who run Cardiff-based Tidy Productions together, began thinking about a character whose life was going in a different direction to that originally expected.
"Initially I wanted to get away from it being Welsh because of Gavin and Stacey, so we did think about setting it in Bristol," she said.
'Lioness of a mother'
"But I know Wales, and we thought, 'well, it doesn't have to be Barry Island again', so we decided on the valleys, which for me is very different. It may not be for people outside of Wales but for me it was.
"Originally it was going to be six half-hours in front of an audience in a studio, but that changed to ten episodes of one hour. We knew we'd need quite a big story to fulfil that.
"The thing that we always came back to was that she'd be a lioness of a mother, with something in her past that would come back to haunt her.
"So we decided that as a teenager she'd been planning to go off to college, but she got pregnant at 16 and the whole direction of her life changed.
"And gradually we peopled this whole world around her."
As well as the regular cast, whom Jones says created a "family atmosphere" during shooting, there are also some memorable cameos.
They include big names from Wales including rugby stars Shane Williams and Mike Phillips, Wales rugby coach Warren Gatland, former boxing champion Joe Calzaghe and former Labour leader Lord Kinnock.
There are also other appearances from the likes of TV presenter Keith Chegwin and, less surprisingly, Gavin and Stacey co-writer and star James Corden.
She hopes all those ingredients will be a recipe for a warm, very human, comedy drama.
"I don't want to make things that are cynical and aggressive just because, oh my God, there's enough of that going on in the world without me adding to it," said Jones.
Stella starts on Friday 6 January at 21:00 GMT on Sky 1.