Over 7,000 fewer new cars bought in Wales last year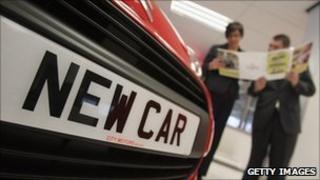 The number of new cars bought in Wales fell by nearly 10% last year, figures reveal.
Cars registered in 2011 totalled 66,771, which is over 7,000 less than in 2010, according to the Society of Motor Manufacturers and Traders (SMMT).
Across the UK, the number of new cars bought fell by 4.4% - the lowest number of registrations in more than a decade.
SMMT chief executive Paul Everitt said poor consumer confidence in Wales could be behind the larger drop in new cars.
With a 9.94% fall in new car sales, Wales saw a bigger fall than England (-3.91%) and Scotland (-4.85%), according to SMMT's figures, which they based on the number of new cars registered with the DVLA.
However, Northern Ireland saw a larger drop in new cars registered last year (11.70%).
Mr Everitt said it was not surprising that people were choosing not to make purchases while there was uncertainty over the economy and jobs.
"In Wales there's perhaps a greater nervousness about jobs and the impact of public sector cuts, with so many people employed in the public sector," he said.
"People may be in jobs now but they may be a bit more nervous than in other parts of the country.
"If they are not sure about their jobs, people are not sure about committing to big purchases.
"Consumer confidence is very low and the challenge is to get those actually in employment to commit to buying things."
He added that SMMT was expecting the situation to improve in 2013 after a steady 2012.
Ford Fiesta popular
Across the UK car registrations remain 25% below their peak of 2.58 million, recorded in 2003.
However, the fall in demand for new cars contrasts with a strong rise in UK car production in the last six months.
Diesel and other non-petrol cars continued to gain market share last year, SMMT said.
The Ford Fiesta was the most popular new car.
A spokesperson for the Department of Business, Innovation and Skills said: "Although they were down on the year before, the car registration figures for 2011 were still ahead of industry expectations.
"The government wants to create the right conditions for businesses to succeed and remove barriers that are preventing them from performing to their full potential.
"2011 saw a huge vote of confidence in the UK auto sector as vehicle manufacturers reported new commitments of around £4bn to projects in the UK through new models and investment in UK plants, creating and protecting thousands of jobs."