Citizens Advice Cymru say 41% worry over fuel bill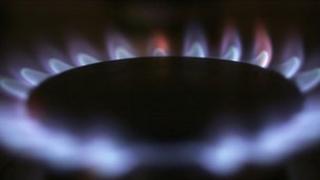 Some 41% of people in Wales are worried they cannot afford to pay their next fuel bill, a charity says.
A Citizens Advice Cymru (CAC) survey also suggested that 56% said energy bills would put a strain on their finances this year.
The charity is launching its Big Energy Week to help people save money on their fuel bills.
CAC director Fran Targett said often people struggled unnecessarily without seeking the best deal.
"From conversations our staff have every day with people who are struggling with their fuel bills, we know how difficult things are at the moment, with hikes in prices putting extra pressure on people's budgets at a time when money is already tight," she said.
"What comes across is that often people are struggling unnecessarily because they're not on the best deal, or don't realise they can get help to insulate their homes - or are simply not getting the financial help which is actually readily available to them."
The charity's survey found that 63% of people in Wales were cutting their energy bills by having the heating on less.
It also found that 41% did not know that energy companies were offering help to insulate their home, and that 71% of people who said their energy bills would put a strain on their finances this year also said they were worried they would not be able to pay their next fuel bill.
'Complex problem'
Citizens Advice said that the number of people in the UK who approached the charity for online advice last November was eight times higher than in November 2010.
Throughout 2011 the charity said it helped clients with over 96,000 fuel debt problems.
John Griffiths, Welsh environment minister, said the Welsh government was "doing much" to tackle fuel poverty.
But he added:"It is a complex problem and one which no single organisation or government can resolve in isolation."
Big Energy Week is being launched on Monday at St David's Centre, Cardiff.
The event is supported by Home Heat Helpline, Consumer Focus, Which?, Energy UK, energy companies, charities, accredited switching sites, Ofgem and the government.