Ann Romney's Welsh cousins back husband's White House bid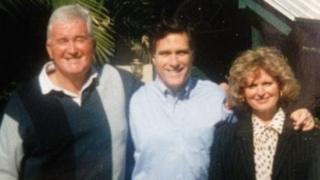 As Mitt Romney battles to claim the Republican nomination for the US presidential election, his wife's Welsh relatives are fully behind his race to the White House.
The family of Ann Romney, nee Davies, moved to the USA in the 1920s from Kings Terrace, Nantyffyllon, Maesteg.
Roddy Evans, who now lives in Porthcawl, is her second cousin - his grandfather and her grandmother were brother and sister.
He's met the Romneys many times in Wales and the USA and says they are "lovely people".
"Ann, as you've seen from her photographs is a beautiful girl... she's just a very sweet person," he says.
"Mitt is a nice guy - family boy, he's got five sons of his own and 16 grandkids.
"Pretty formidable family, but just very nice people."
Cyril Phillips, from the Llynfi Valley Historical Society, says it was the turbulent 1920s that prompted Ann Romney's family to leave Wales in search of a better life.
"In 1921 there was a strike, and in 1926 of course the general strike, and the coal mining industry suffered as a result," he says.
"In Maesteg, three collieries closed - the Maesteg deep colliery, the Oakwood colliery and the Garth colliery all closed in the late 1920s.
"And lots of people emigrated from the valley to Oxford, and Slough and Birmingham - and of course overseas to America and Canada, and some even to Australia and South Africa.
"There was no work here for people at that time, and they had to leave to find work to support their families.
"It was a very hard time indeed."
Ann Romney is seen as an asset to her husband's campaign.
Mitt Romney calls her his "remarkable woman", not just for her unconditional support of his political ambition, but for fighting personal battles with breast cancer and multiple sclerosis.
Irene Neagle, another second cousin living in Bridgend, is proud to see her relatives making headlines around the world.
"They went out to an unknown land but they've really bettered themselves," she says.
"Their Welsh roots are still so important to them. They've never forgotten where they came from.
"It's thought provoking to think that all those years ago when my grandfather left for America, this is where they are today.
"It is a feeling of pride in the family because how many people get that chance in life?"
It's a long way from Wales to the White House, and Romney's early advantage has suffered in the latest Republican primaries.
But while his supporters in America try to get the momentum behind him again, they can be sure of the continued support of their relatives "back home" in Wales.