HMIC call to improve police forces crime recording in Wales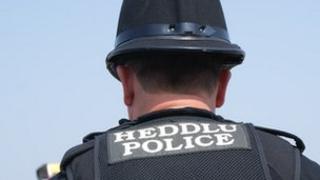 Police forces need to improve how they record crime and anti-social behaviour, says an independent inspectorate.
A review by Her Majesty's Inspectorate of Constabulary (HMIC) found a wide variation in the accuracy of recording crime statistics.
Dyfed-Powys Police and North Wales Police "generally recorded accurately", HMIC found, but South Wales Police and Gwent Police gave "cause for concern".
"The majority do well," said HM Assistant Inspector of Constabulary.
The HMIC review examined incident and crime data from each of the 43 forces across England and Wales and the British Transport Police.
It looked at how incidents reported by the public were recorded by forces as crimes or else logged as 'no crime committed'.
HMIC found that three-quarters of forces got their crime recording decisions right at least 90% of the time.
Though it conceded that its samples were "relatively small", HMIC said the results were "sufficient to reveal a picture and generate action".
HM Assistant Inspector of Constabulary, Vic Towell, said the review provided some insight into what happens when the public reports crimes and incidents to police.
"The findings are indicative and provide assurance that the crime figures published by their police forces are being probed," he said.
"Whilst the majority do well, the variation between the best and worst remains too wide and needs to improve."
HMIC added it was disappointed to find that in relation to anti-social behaviour some forces were still not addressing the issue of repeat and vulnerable victims.
It said it would report on this again later in the year.
'Marked improvements'
In response to the review's findings, Gwent Police said it continued to work hard to ensure that every time it was contacted about an incident it correctly recorded the relevant information and took the appropriate action.
"Whilst the report shows there are marked improvements in performance as compared to a similar report compiled in 2009 there is still work to be done," said a spokesman.
"Gwent Police will continue to work hard to ensure that in areas where we can improve performance we will do just that."
South Wales Police Assistant Chief Constable Julian Kirby said: "We are particularly pleased that the inspection recognised evidence of good force-level investigative policies attached to the force's incident recording system and the standard of care to victims was of a good quality overall."