Google tells Welsh firms they are losing business without web presence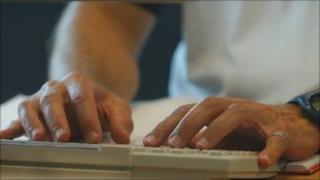 Google has claimed Welsh firms are losing if they do not boost their web presence, as figures show companies are lagging behind the rest of the UK.
The warning comes as the search engine announces a year-long campaign with the Welsh government to encourage more businesses to use the internet.
Figures show up up to 40% of small Welsh firms have no website.
The Welsh government urged business to use digital technology to "innovate, grow and access new markets".
Google, one of the biggest companies in the world, is sending a team to Wales for 12 month from March to promote the business benefits of being online.
The project aims to offer free one-to-one advice to small and medium-sized firms on how to acquire a web presence or improve the one they already have.
For the first three months, the firm will launch a travelling "Juice Bar," a roadshow of experts offering a "digital health check" with workshops, tutorials and advice.
Google said UK government figures show some 83,000 Welsh firms do not have a website of their own to promote their goods or services.
Laurian Clemence, of Google, said: "You are really missing out if you can't be found online."
Ms Clemence said the firm hoped to help at least 1,000 firms develop a website through its Juice Bar work.
She said: "We do believe that there are definitely more benefits than not. The key thing is that people who have their business online see their business grow four to eight times faster than those that don't.
"We realised that Wales was lagging behind in the adoption of web presences for SMEs [small and medium-sized enterprises].
"There is a lot of opportunity there to help them get a website for the first time or if they do have a website, to improve it."
The campaign aims to train a team of specialists to advise small business owners for the rest of the project.
Business Minister Edwina Hart said: "We welcome this initiative to help companies gain maximum benefits from using and exploiting digital technologies to innovate, grow and access new markets, driving business growth.
"Digital technologies and online services have the potential to revolutionise the competitiveness of business and I hope as many as possible take advantage of the expertise on offer from Google."
The first event is held at The Coal Exchange, Cardiff, on 6 March from 16:00 - 19:00 GMT.