Recycled waste stolen in Rhondda Cynon Taf prompts warning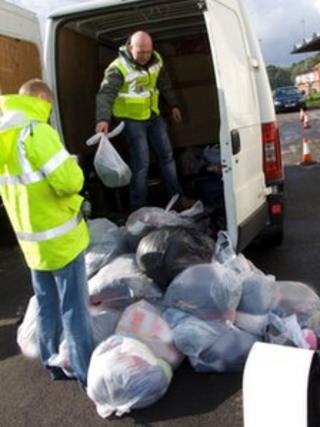 Police are warning people to shred their documents before putting them in the bin after reports of thieves taking recycling bags left out on the street.
Rhondda Cynon Taf (RCT) council said residents had complained of three men in a white van picking up waste left out for recycling.
Vale of Glamorgan council is also investigating after bags were taken.
South Wales Police said: "Anyone taking rubbish without authorisation is breaking the law."
The rising price of scrap materials are thought to be one of the reason why bogus refuse workers are targeting household waste left out for recycling.
But the prospect of thieves combing through letters and bills left in bags to find personal and financial details that could be used in identity theft has not been ruled out.
'Criminal purposes'
In addition, RCT council says innocent householders could be left in the frame if their stolen recycling materials end up being fly tipped.
The council said: "It can only be assumed that these individuals are using the waste for criminal purposes.
"Many residents throw letters and bills into their recycling bags which contain key information about them which could be used for identity theft or it could implicate them if the waste is fly tipped."
Nigel Wheeler, director of streetcare services at RCT, added: "It seems more the metal, the tin cans, that are going at the moment, but it could be [identify theft] as well. We do tell people to shred confidential information."
Vale of Glamorgan council cabinet was told this month of reported incidents of recycling being "stolen" from the kerbside overnight.
South Wales Police said it was aware of the more recent incidents in the RCT council area.
A spokesman said: "It is reasonable to assume that those responsible are doing it for money and could well be committing further offences such as identity theft or fly tipping in the process.
"People can safeguard themselves from things like identity theft by shredding or destroying any documents which hold personal details, and never throwing them out intact."
People with information about the thefts are advised to contact their local authority or the police non-emergency number 101.