Peacocks: Administrators KPMG receive six bids for clothing retailer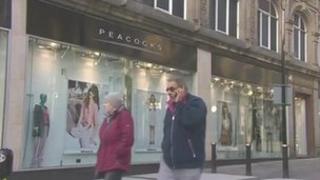 Administrators for retailer Peacocks have received six bids for the Cardiff-based firm which is struggling with £750m of debts, BBC Wales understands.
The first round of bidding was on Monday for the clothing firm, which has 563 stores and 48 concessions.
The deadline for final offers is next Monday.
Last month the firm, which employs about 9,000 people across the UK, said 249 staff at its Welsh head office would be losing their job.
The administrators KPMG now say the retailer outlet's overall debt stands at £750m, about the same as the overall sales of the group.
They said they would keep on the remaining 266 employees at the Cardiff head office and continue to run Peacocks' stores and concessions as it sought a buyer.
Following the final offers next week, all the bids will be reviewed by the administrators before a final decision is made.
It is unclear how long that will take.
Last month the fashion chain Bonmarche, which part of the Peacocks Group, was bought for an undisclosed sum by private equity group Sun European Partners.
Sun, which bought the entire chain apart from three stores, has said it will continue to run 230 stores but will close about 160. That could mean 1,400 redundancies among its Bonmarche's 3,800-strong workforce.