Wales snow risk: Coldest night of winter, say weather forecasters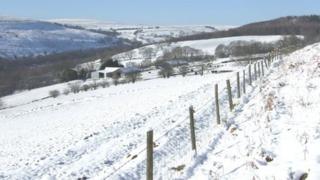 Wales has experienced the coldest night of the winter, and been warned of even lower temperatures to come, and a chance of snow by the weekend.
Parts of Flintshire, Carmarthenshire and Powys recorded Wednesday night lows of -7C (19.4F), with a chance it will be even colder on Thursday evening.
Weather forecasters say a dry Siberian wind is responsible for the freeze.
Cloudier weather on Saturday could mean snow, as rain arrives on the west coast of Wales.
"There's a risk of snow of Saturday, but it comes with a caveat," explained BBC Wales weather presenter Sue Charles.
"A front is trying to push in from the Atlantic on Saturday morning. It could arrive as rain from Anglesey down to Pembrokeshire, and push eastwards, with a chance of snow in the hills.
"But if high pressure keeps the cold air in place for longer, the front could be stalled, bringing a greater risk of snow."
She said it was still too early to pin down whether snow showers would definitely fall.
But clear skies for Thursday and Friday mean the current cold snap will remain, with possibly an even colder night on Thursday.
The cold snap over the last week has prompted the charity Age Cymru to urge older people to take extra care.
Its Keep Well this Winter campaign co-ordinator, Joanne Bass, said: "Older people need to look after their health during the winter months because the cold can have a detrimental effect on their health.
"Cold weather can lead to respiratory illnesses and increase the risk of older people suffering hypothermia, a stroke or a heart attack."
The charity has spelled out a series of tips to help elderly people combat the cold.
It has also highlighted help for those struggling to meet rising fuel heating costs across Wales, after warning at the start of the winter that 42% of the Welsh pensioner population are in fuel poverty.
The charity has also called for an emergency heating crisis fund to be introduced in Wales, to help vulnerable households in winter.