Wales has more empty shops than England and Scotland, report says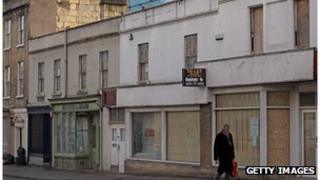 Town and city centres in Wales are more likely to have empty shops than Scotland and England, figures suggest.
Wales' average shop vacancy rate is about 18%, compared to about 15% in Scotland and 14% in England, according to the Local Data Company (LDC).
Newport has Wales' highest vacancy rate of 27.9% while nearby Cwmbran has the lowest at 6%.
LDC predicted the number of empty shops on High streets across the UK was set to rise.
Behind Newport, Swansea had the second highest vacancy rate of 23.6% and third was Rhyl in Denbighshire with 20.3%.
Newport has suffered from the number of boarded up shops and empty buildings in the city, with several big high street names closing their premises.
However, a bid to revamp Newport city centre shopping took a step forward in December after new developers submitted their planning application for Friars Walk.
Abergavenny recorded the second lowest vacancy rate of 7.9% and Port Talbot the third lowest at 8.2%.
Lance Mellor, owner of hair and beauty products business Cutting Rooms Ltd, said: "I think one of the reasons we survive in Port Talbot is a nice eclectic mix of shops."
He added: "The street I'm on, you've got an artist there, we've got a restaurant, we've got a travel agent, we've got clothes shops, we've got... a nice little mix of shops."
On Port Talbot's relative success, Chris Parry, a business expert from Cardiff Metropolitan University, said: "The type of shops that they've got... it's not a mix of the big nationals that you see.
"There's a whole load of names there that you think 'oh that's unusual, oh, I like that."
He added: "One of the challenges for all the local authorities in Wales is how do we encourage the businesses to start up, which means looking at business rates, it means looking at flexible leases."
According to LDC, one in seven shops on the UK's high streets stood empty in 2011.
It said vacancy rates would increase in 2012 because of weak consumer confidence, rising unemployment and growing online sales.
High streets also faced "structural issues", it said, with the internet's share of the shopping market having doubled in the past 11 years and out-of-town centres also seeing growth.