Denbighshire 19th Century prisoner photo books and Mostyn wills restored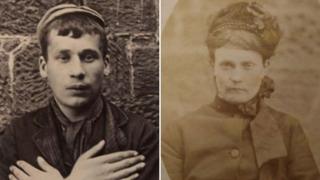 Rare 19th Century books containing photos of habitual criminals are among archives being restored in north Wales.
The pictures, taken between the 1860-90s, were used by the Denbighshire Constabulary to keep check on repeat offenders.
Other documents being preserved are 500-year-old wills from a notable Welsh family, the Mostyns.
The items will be available to view, some for the first time, once the work is completed.
Some have not been shown before because of their delicate condition.
Almost £30,000 in grants is paying for six restoration projects.
Jane Brunning, senior archivist at Denbighshire Record Office, which is situated inside Ruthin's former gaol, explained that the prison record photo books were rare and possibly the oldest of their type in Wales.
'Rogue & Vagabond'
They give a colourful description of people with criminal records, including their photo.
One page shows Alice Wilson, "a Rogue & Vagabond endeavouring to obtain charitable contributions by means of false pretences".
Seven convictions across northern England between October 1872 and November 1877 are listed, culminating in a sentence of "7 years PS [Penal Servitude] and 5 years Police Sup.[Police Supervision]" in Ruthin in January 1885.
Her entry finishes: "Also wanted at Leeds, West Bromwich, Accrington, Ellesmere & Birmingham for similar offences."
James Thompson's record shows he was convicted at Ruthin Quarter Sessions on 10 April 1896 for housebreaking at Rhosddu and sentenced to six calendar months.
His entry reveals he had "8 Previous Convictions at Liverpool in the name of Robert Williams".
The books were formerly owned by Denbighshire Constabulary, created in 1848, now North Wales Police, and were used by officers to keep check on people with criminal records.
Miss Brunning said officers had realised early on that photos were going to be a "big help in catching criminals" and which prompted the creation of the carte de visite photographs.
She explained that the two books were mainly made up of photos and descriptions of men.
But there are several women featured, including one woman who posed as a collector for charities but actually pocketed the cash.
Washing and drying
At Flintshire Record Office in Hawarden, conservator Mark Allen has been restoring the prison books - which are owned by Denbighshire Record Office - and the Mostyn manuscripts, which are the property of Mostyn Estates Ltd.
They include the original will of William Mostyn, dated 1566, and one for Sir Roger Mostyn from 1640.
History books say the Mostyns, who still have strong ties with Llandudno, were among the leading gentry in north Wales as far back as the 14th and 15th Centuries.
Mr Allen's work includes cleaning pages, manuscripts and parchments using sable brushes as well as washing and drying them and flattening the documents and easing out creases.
He says it's intricate work and requires stabilising corrosive iron gall inks and the deacidification and washing of paper.
Mr Allen said the parchment is gently humidified to enable creases to be eased out.
Funding for the projects has been awarded in a partnership between the Welsh government via CyMAL: Museum Archives and Libraries Wales and the National Manuscripts Conservation Trust (NMCT).
Heritage Minister Huw Lewis said the restoration projects allowed future generations to have access to the regionally and nationally significant material.
"Archives and manuscripts held by Welsh archive services document the history of Wales and provide a vital insight into who we are and how we arrived at where we are today," he said.
Other archives being restored include:
Carmarthenshire Archive Service: The Vaughan Pedigree, colourful full length portraits of William the Conqueror, Hywel Dda and others
Gwynedd Archive Service: Parish Register Project, early records that give an insight into the formation of communities giving information about migration patterns, depopulation, the size of households, occupations, literacy, mortality rates and the extractive and maritime industries.
West Glamorgan Archive Service: Neath Abbey Ironworks plans, detailed and finely drawn, and they include designs for gas, mining, locomotive and marine machinery