Teacher 'destroyed by abuse lie'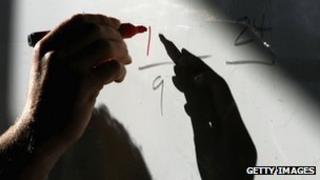 As figures show that over half of the accusations made against teachers and teaching assistants by pupils in Wales turn out to be false, malicious or unfounded, one teacher tells their story.
"I first found out that an allegation had been made against me when my head rang me and said he needed to speak to me urgently and that he had to speak to me face to face.
"All I was told was that I wasn't to go to my place of work as an allegation had been made against me which fell under the child protection area.
"Of course, I wanted to know who had said it and what had been said but I was told he couldn't tell me. Child protection policies don't allow a head to do so.
"I was unofficially suspended and told to take time off as a meeting was taking place with the team who deal with child protection issues.
"That meeting occurred several days later and it was after that that my head informed me that he needed to see me again and I was told I was being suspended over a child protection matter.
Sleeping pills
"I still didn't know what I was supposed to have done - in fact I went nearly five weeks before the full details were made available to me.
"During that time I re-lived the whole of my teaching career - was it that incident, was it this one? Who could it be? Was it a boy? A girl? A teacher? Someone out of school?
"I went two weeks or more without sleeping. I saw my doctor who prescribed me sleeping pills.
"I have had some counselling as I felt I needed to be able to talk to someone other than my family and union rep, who gave me invaluable support throughout
"It absolutely destroyed my life for weeks. Was I going to lose my job? Even though this was unlikely it still goes through your mind when no-one could talk to me.
"During the fifth week I found out I was going to be interviewed by Servoka, who carry out independent investigations.
"It was only the day before that interview that I was told what the allegation was, who had made it and when the incident was supposed to have taken place.
"Everyone else who was involved had known about it and had been interviewed.
More investigations
"It turned out that the allegation was malicious and there was a witness who gave evidence to say that it didn't happen and I was cleared.
"Even though I had been cleared of the allegation, it wasn't the end of it.
"It turned out that I had initially been the subject of other allegations, which the Child Protection Team felt didn't need independent investigation, bar the one that had been investigated.
"Now I found that the independent investigators were going to investigate those claims too.
"So I remained suspended until that was done and I was eventually told there was no case to answer.
"It appears that it had been a case of Chinese whispers from a group of pupils. We think they got the wrong impression from something I was doing to help pupils as part of my job.
"Then rumours started. You can imagine a group of children talking and someone's ears pricked up and they think they have a child protection issue and report it.
More cautious
"I returned to school, but initially it was hard.
"Now we are all more cautious when we are teaching and dealing with pupils.
"There were times when I almost felt I didn't want to go back. There were times when I didn't want to be seen in public and both the school and I lived in fear that the story would appear in the press.
"I was worried people would think there's no smoke without fire as there had obviously been rumours flying around school and I was left feeling I was guilty until proved innocent.
"The child protection guidelines indicate that what children say is to be believed until they are proved otherwise.
"But I've been lucky that I have such supportive staff around me and that a lot of the children have been good about it too.
"My head and governors gave me tremendous support but were constrained by policy and procedures.
"I feel it's wrong that teachers are not told straight away what the allegation is and who has made the allegation - that's a basic human right.
"There now seems to be a knee-jerk reaction when an allegation is made without anyone being allowed to use common sense.
"I have no issue with teams following up allegations and investigating them.
"But along the way there needs to be more safeguards for the person accused to be sure a false allegation doesn't lead to the dreadful stress-filled situation I was in and an unnecessary and costly suspension for both me and the school."