Welsh rehab centres 'face closure' through lack of clients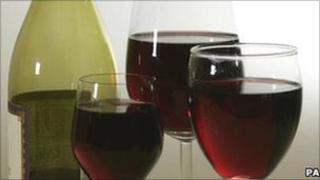 Residential treatment centres in Wales for drug and alcohol problems say they are struggling to attract clients.
Welsh government figures show nearly half the 91 people in Wales referred for rehab last year went to England, despite beds available in Wales.
Service providers told BBC Wales they risked going out of business.
Clive Wolfendale, chief executive of drug treatment service CAIS, said: "The economics of providing residential rehab services are extremely marginal".
Rehab centres told the Radio Wales' Eye on Wales programme that red tape and a reduction in referrals for drug and alcohol treatment over recent years were putting their future in jeopardy.
Service providers complained of inconsistent and ad-hoc commissioning practices, and a reliance by some bodies on rehab facilities in England, at the expense of units in Wales struggling to survive.
'Postcode lottery'
A report to be issued by Alcohol Concern Cymru will say there were more than 15,300 referrals for treatment for alcohol misuse in Wales in 2010-2011, including 1,218 for patients aged 19 or younger.
The cost to the NHS in Wales of alcohol-related disease and incidents is thought to be as high as £73m.
Welsh government figures show that out of 91 people from Wales referred for residential rehab last year using £1m in ring-fenced public funding, 41 of these were sent to rehab units in England, even though beds were available in Wales.
Rehab providers are calling for a fairer system for providers and clients alike, with the ending of what they call a "postcode lottery" and a streamlining of a system they claim is slow and bureaucratic.
CIAS runs community and residential drug and alcohol treatment services in north Wales, and its chief executive told the programme: "The last two to three years have been quite difficult - there's been a contraction in referrals within Wales and outside.
"Providers can't go on forever in this situation. The economics of providing residential rehab services are extremely marginal and in due course will become untenable," said Mr Wolfendale.
"If we don't grip this particular problem… it will become very unattractive for providers to stay in this particular business and that may eventually see the collapse and disappearance of residential services within Wales, and that would be an enormous gap."
'Saved my life'
The report by Alcohol Concern Cymru will call for area planning boards, based on the seven health boards in Wales, to take the lead in commissioning services from the 22 local authorities.
Andrew Misell, manager of Alcohol Concern Cymru, said: "It really would be good to have a bit more consistency, perhaps give services a bit more certainty for the future if they know that within that area things are going to be done in a consistent way."
Former teacher and artist Mary Robinson, 49, was initially offered a place at a rehab unit in Weston-super-mare, but won her battle to attend a centre near Abersytwyth instead for six months in 2010.
"Without a shadow of a doubt, it saved my life," she said.
"You have so much self-loathing by the time you get there... I was at absolute rock-bottom, I had no self-esteem.
"They work on your self, your image, on getting you back so that your thinking is straight."
A Welsh government spokesperson said Local Government Minister Carl Sargeant was in discussion with commissioning agencies from the statutory and voluntary sector over how rehab services were taken up.
The spokesperson confirmed that a review of the role of area planning boards would be published later in February, and that consideration was being given to developing an all-Wales preferred provider list.
But it was stressed that individual need and choice would remain paramount, and a range of services was to tackle substance misuse in Wales.
Eye on Wales is on BBC Radio Wales on Sunday 12 February at 12:03 GMT