Welsh policing: Devolution call by ex-chief constable Timothy Brain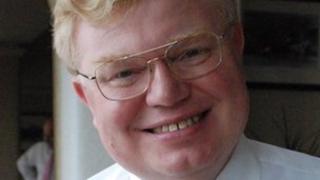 A former chief constable is calling for policing in Wales to be devolved to the Welsh government.
Dr Timothy Brain, formerly of Gloucestershire police, said arguments against it "no longer stack up".
The former deputy chief constable of North Wales Police Clive Wolfendale has also spoken in favour of devolved policing powers.
The Welsh government said it was not the right time "given the huge financial commitments".
Wales has four police forces: Dyfed-Powys, South Wales, North Wales and Gwent.
Dr Brain will put his case forward at Aberystwyth University's Centre for Welsh Legal Affairs' annual lecture on Thursday night.
A former Aberystwyth student who has recently been appointed to the university governing council, he said: "The decision not to devolve policing may have been sound enough when devolution first happened.
"But with the maturity of the Welsh government, which after all looks after such important functions as health and education, there is no longer any reason for not devolving policing as well.
"The arguments against no longer stack up.
"England and Wales share the same legal system, but that's no reason for not devolving policing, especially since the Ministry of Justice has already split away from the Home Office.
"Co-ordination of national security is important, so is cross-border collaboration and cooperation, but that could be achieved by leaving the home secretary some residual powers."
Dr Brain asked why, with Conservatives and Liberal Democrats both committed to "going local," the people of Wales should have less say in policing than those in areas such as Jersey, Guernsey, and the Isle of Man.
He also cited Scotland, where policing had always been a devolved function.
He said the benefits for Wales if policing was devolved were two-fold.
'Greater say'
"First, Welsh government ministers are intrinsically more local, with a greater understanding of local policing needs and expectations," added Dr Brain.
"Second, democratic choice. The people of Wales have a straightforward right to have a greater say in something so fundamental as policing."
A Welsh government spokesman said the cabinet had considered the issue twice in recent years and understood the points made by Dr Brain.
"However, we do not believe that this is the right time given the huge financial commitments that would be involved," he added.
"There could be potential implications for links with other criminal justice agencies such as courts and probation services if devolution of the police were to take place in isolation.
"We will continue to keep this matter under review."
Clive Wolfendale, a former deputy chief constable of North Wales Police, who is now chief executive of drug and alcohol agency Cais, also favours devolved policing powers for Wales.
He was speaking last week after Wales' forces voted for council tax payers to pay more towards the cost of policing.
He said savings could be made by creating a single all-Wales force.
Dr Brain was chief constable of Gloucestershire from 2001 until January 2010, having previously served in Avon and Somerset, Hampshire and the West Midlands forces.