Ucac teaching union rejects pension deal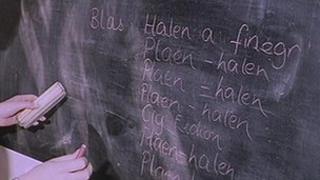 The Welsh teachers' union Ucac says the option of strike action remains on the table, after turning down a UK government deal on pensions.
The union's national executive body said it was unanimously rejecting the latest offer.
Its general secretary, Elaine Edwards said: "We consulted with members before coming to a decision, and the message has come back loud and clear."
The UK government said its offer seeks to strike a balance.
The National Union of Teachers and the NASUWT have also turned down the deal.
Following a meeting of Ucac at its headquarters in Aberystwyth, Ms Edwards added: "The Government's offer is totally unacceptable and teachers and lecturers are prepared to take further action to secure a fairer deal."
Only the ATL union, which represents teachers and college lecturers, and the ASCL, representing school and college managers, have accepted the proposals on public sector pension changes in education that put forward by the coalition.
The Department for Education has argued that the pension offer strikes a balance between guaranteeing teachers a good future pension but "keeping long-term costs firmly under control".
But Ucac said it would now step up its campaign, alongside other unions, to press for improvements to the offer.