Farmers on alert for Schmallenberg virus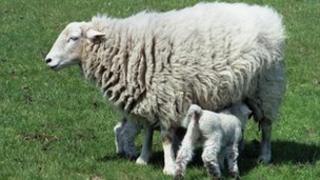 Welsh farmers are urged to report any suspected cases of a disease which has caused birth defects and miscarriages in livestock in England.
The Schmallenberg infection has been diagnosed five times in cattle and 69 times in sheep in England, official figures show.
Humans are thought to be unaffected by the virus, which is thought to be spread by midges, mosquitoes and ticks.
NFU Cymru president Ed Bailey told BBC Radio Wales said it was concerning.
"It's not something that affects the animal terribly except those animals that are pregnant," he said.
"If it gets into a flock you could perhaps lose 25% of the lambs.
'Damage'
"It's a very harrowing disease particularly at the lambing time when everyone is in full swing."
The Department for Environment, Food and Rural Affairs (Defra) said it suspected livestock may have got the virus from infected midges blown across the Channel from affected areas in Europe.
The impact of the disease on the UK sheep flock should become clear over the next two weeks as the lambing season reaches its peak.
In England, the disease has now been identified in Gloucestershire, Wiltshire, West Berkshire and on the Isle of Wight.
This is in addition to farms in Norfolk, Suffolk, Essex, Kent, East and West Sussex, Hertfordshire, Surrey, Hampshire and Cornwall, which have previously identified cases.
The virus can lead to late abortions and birth deformities in newborn sheep, goats and cattle.
It has also caused "mild to moderate" symptoms in adult cattle.
Mr Bailey said Welsh farmers should be mindful of the disease in England and report any deformities or abortions they see in their cattle and flocks
"Farmers are aware of the disease and are reporting diseases," he said.
"But, of course, if it gets into the cattle flock we will have to find out and see what the damage is there as well."
Don Thomas, managing director of Welsh Lamb and Beef Producers co-operative of over 7,500 livestock farmers, described it as a worrying time.
He said the full impact of the problem will not be known for some time as it only becomes apparent once livestock is born.
"Clearly, if it has spread across the Channel there is a worry it has spread further afield," he said.
A spokesman for the Welsh government said: "The Welsh government is working closely with other administrations and agencies to improve our understanding of how Schmallenberg virus is transmitted, and whether there are practical control measures that can be applied.
"We are encouraging animal keepers to inform their veterinary surgeon if they suspect such cases.
"Suspected cases referred to the Animal Health and Veterinary Laboratories Agency (AHVLA) will be tested free of charge."