Romney eats Welsh cakes on St David's day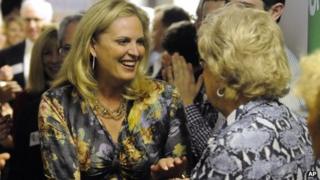 US Presidential hopeful Mitt Romney and his wife Ann celebrated St David's Day by eating specially delivered Welsh cakes.
Mrs Romney, whose family comes from Maesteg, has been serving them as her husband's campaign crosses the country.
In the UK, Prince Charles presented leeks to the Welsh Guards as part of a St David's Day parade before they are deployed to Afghanistan.
About 400 members of the battalion are to leave within the next two weeks.
The Prince of Wales presented the leeks at the Cavalry Barracks in London, as part of an annual tradition for the battalion dating from 1916.
It comes as events were held around Wales to mark its patron saint's day.
The Romney's eldest son Tagg said it was an "unbelievably busy time" for his parents.
His father is the front-runner to win the Republican Party's nomination.
He said: "My wife Jen, who is also of Welsh descent, will be making Welsh cakes and sending a care package to my parents, who are travelling and unable to make them themselves".
Mrs Romney, campaigning with her husband in Georgia, was wearing a dress which included the daffodil in its pattern.
Prince Charles was shown the unit welfare office to see how it is set up to support the families while the battalion is deployed.
He also met soldiers and their families and presented an Afghanistan medal to Drummer Dale Leech, who lost one of his legs in a roadside bomb blast in 2009.
Drummer Leach, 25, from Barry, Vale of Glamorgan also fractured his skull and back and suffered a collapsed lung when his Jackal vehicle was hit in Nad-e-Ali.
"The Prince asked how I was getting on, how the leg was and what the treatment was like," he said.
"The medal means everything to me and it was a real privilege getting it from the Prince."
US Secretary of State Hillary Clinton also sent a St David's Day message to Wales on behalf of President Barack Obama and the people of the United States.
"This is an opportunity to reaffirm the strong bonds that unite us and to reflect on the rich and varied contributions Welsh people have made to America over the centuries," she said.
"Several of our founding fathers - including former presidents Thomas Jefferson and John Adams - were able to claim Welsh ancestry.
"Today, almost 2m people living in the US can trace their roots back to Wales. I am proud to say that I am one of them."
She said the United States was committed to "strengthening our partnership as we work together to build a more peaceful and prosperous future for all our people".
Meanwhile, troopers from 1st The Queen's Dragoon Guards, also known as The Welsh Cavalry, celebrated St David's Day in Afghanistan in the traditional way - by munching their way through a whole raw leek.
Major Patrick Bond, officer commanding B squadron, said: "St David's Day has always held a special place in the calendar for the Queen's Dragoon Guards and being deployed on operations makes it even more important."
Elsewhere, it was announced that the home at Trawsfynydd, Gwynedd, of Welsh poet Hedd Wyn could be turned into a heritage centre after its future was secured by Snowdonia National Park Authority.
Yr Ysgwrn has been bought with funding from the Welsh government and the National Heritage Memorial Fund to ensure it remains open to the public as a memorial to the bard who died in World War I.
He was posthumously awarded the chair at the Birkenhead Eisteddfod in 1917.
First Minister Carwyn Jones said: "As we celebrate St David's Day, I am delighted to be able to announce that this important building and its unique collections will now be safeguarded for the entire nation.
"Hedd Wyn, his work and his tragic death give him a special place in both the history and culture of our nation."
The national park authority said it now intends to develop a heritage centre which will focus on issues including the life of Hedd Wyn, World War I, poets and writers of the period and social life in rural Wales at the turn of the 20th Century.
'Medieval shrine'
Meanwhile, in Pembrokeshire, the newly-restored shrine to Wales' patron saint was unveiled and dedicated by the Bishop of St Davids, the Right Reverend Wyn Evans, at a special service in St Davids Cathedral.
The restoration is the culmination of an 18-month project which began with a £150,000 fundraising appeal.
"This is a momentous occasion not only for the cathedral but also for the diocese of St Davids and the people of Wales," said the Dean of St Davids, the Very Reverend Jonathan Lean.
"My decision to restore the medieval shrine of St David goes hand in hand with my vision to educate our visitors and pilgrims about the role of St David and his continuing influence on our lives and in our nation."
St David's Day celebrations were launched on Wednesday evening with a reception at 10 Downing Street.
Prime Minister David Cameron welcomed Welsh MPs, and invites went out to Welsh stars of stage, screen and sport including Wales rugby captain Sam Warburton and TV presenter Steve Jones.
Welsh Secretary Cheryl Gillan announced in the Commons that the Welsh flag would fly over Downing Street throughout the day.
She sent warm wishes to the people of Wales, particularly those serving on military operations around the world.
She added: "As a Welsh woman, St David's Day will always have a special place in my heart, as it is a chance to reflect on how far we have come."