Diamond Jubilee celebrations in Wales gather pace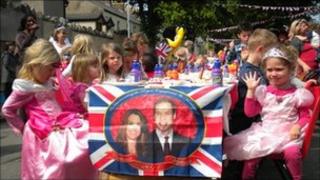 Plans for Diamond Jubilee celebrations around Wales in June are gathering pace with street parties, parades and concerts being organised.
Most councils have started receiving road closure applications in readiness for a repeat of last year's royal wedding street festivities.
Around 40 have been received so far but many more are expected.
Schools are also planning parties, fairs, exhibitions and concerts to mark 60 years of the Queen's reign.
An estimated 200 street parties were held in Wales for the royal wedding last year, with around half taking place in Cardiff and Rhondda Cynon Taf.
Anthony Parry, who organised a huge street party in the centre of Mold, Flintshire, said he was planning a 1950s themed event this year.
"We had the best party in Wales and will be having a bigger and better one than last year," said Mr Parry, who is chair of the Mold 2000 retailers' group.
"We had about 5,000 people last year. We're planning a big stage, TVs on the street, entertainment from when the TV coverage starts right through to 10 o'clock at night, and finishing with a firework display hopefully.
"We're working on a 1952/53 theme and hopefully we will have people dressed up. We're planning a parade of vintage cars of the era, an afternoon tea dance in the square and a jazz band in the evening."
BBC Wales contacted all 22 local authorities in Wales.
They say they are expecting more applications for street parties nearer the time of the four-day long bank holiday weekend from 2 June.
Neath Port Talbot has received the most so far, six, while Cardiff and Pembrokeshire are just behind with five each.
Powys council said it had only received four confirmed applications but there were 13 expressions of interest.
Rhondda Cynon Taf council said the deadline for street party applications was 1 May to allow enough time for legal processes to be carried out.
Bridgend council, which has had two applications, said: "We've only had a couple of approaches so far, but we are expecting to receive more as we get closer to the event."
Some councils have received no applications at all yet - Carmarthenshire, Ceredigion, Conwy, Gwynedd, Monmouthshire and Newport. Conwy said several inquiries had been received.
Time and effort
Kristyn Harris, who organised a party at Pontllanfraith in Caerphilly county for the royal wedding last year, said the event had brought the community much closer together.
"Before the royal wedding nobody knew each other but we've all made friends and kept in touch," she said.
"We're all more aware of who lives where, especially the elderly and the vulnerable. We all look out for each other now."
However, Mrs Harris said she was not currently planning to organise another party, partly because of the amount of work it entailed.
"I didn't expect the forms and the amount of paperwork and the meetings with the local police and council," she said.
"That took up an awful lot of time and effort."
Other jubilee events are taking place around Wales, with many schools planning their own parties or using the jubilee to look at history topics.
One of the big jubilee projects is the lighting of beacons on 4 June, with at least 100 so far registered in Wales.
The Queen is also visiting as part of her Diamond Jubilee tour of the UK, with Cardiff, Merthyr Tydfil, Aberfan, Ebbw Vale, Glanusk Park near Crickhowell and Margam on her itinerary.
Elsewhere, Dame Shirley Bassey and Sir Tom Jones are part of a concert in front of Buckingham Palace in June.