Sir Deian Hopkin to advise on Welsh WWI remembrance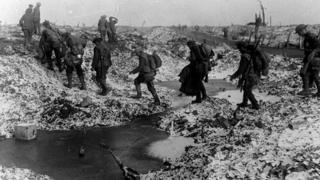 A leading historian has been appointed to help plan events in Wales to mark the centenary of World War I.
Sir Deian Hopkin will advise the Welsh government on how the conflict should be remembered.
First Minister Carwyn Jones said it was important to "strike the right tone" and give the 100th anniversary "the attention it deserved."
In November Llanelli-born Sir Deian was appointed the new president of the National Library of Wales.
Speaking at his monthly news conference Mr Jones outlined the importance of the nation remembering the sacrifice made by those who served during the war.
He said: "As we approach the conflict's centenary I personally feel it is extremely important that we remember those who died and reflect on how it changed Wales and the world forever.
"We have now lost the last living link with the war as the veterans who served are no longer with us, so it is our duty to remember what they endured.
"Reflecting on the First World War will not only help us understand the past, but also help us to try and understand conflicts across the world today.
"We will see events and ceremonies within Wales and beyond and Sir Deian will advise us on how best we can remember the conflict and engage with the Welsh public."
Sir Deian, who read history at Aberystwyth University where he lectured for 24 years, is also a former vice-chancellor and chief executive of London South Bank University.
He will work with the Welsh government to develop a programme of activities that will take place between 2014 and 2018.
He said: "There can be few more poignant but important centenaries than the outbreak of the First World War in 1914, the consequences of which affected every family and every community in the land, but also forged huge changes in politics, society and the economy.
"I am very pleased to be asked to assist the First Minister and his colleagues in determining the most appropriate way of marking this event so that we can gain a better understanding of its causes and the lessons we can all learn."