Rayat London College in Uni of Wales probe liquidated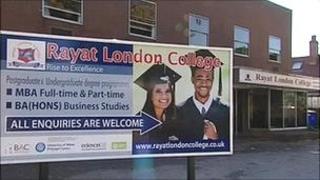 A London college which was one featured in an expose of visa fraud involving foreign students on University of Wales courses has gone into liquidation.
Rayat London College suspended three members of staff following the BBC Wales probe and the college was banned from enrolling new overseas students.
Week In Week Out looked into claims students were offered help to cheat their way to UoW degrees.
The University of Wales (UoW) has lodged an application with liquidators.
The college, in Heston, west London, was raided by the UK Border Agency (UKBA) in October last year after the programme broadcast a number of allegations.
The UKBA said the college would not be allowed to recruit students from overseas while its investigations continued.
Alternative centres
At the time, Rayat London College denied any wrongdoing, saying it had suspended those of its staff allegedly involved and had referred the matter to the police.
Two hundred students were studying for a University of Wales-validated degree at the college.
It says about 80 will need to transfer to alternative centres who provide equivalent University of Wales degrees, and is helping them to do so.
The announcement of the liquidators going in was published in the London Gazette.
The liquidators were called in to the college last month.