Roald Dahl voted best author in primary teachers survey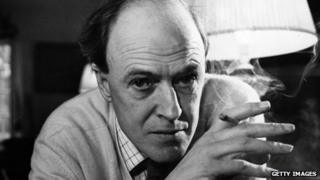 Cardiff-born writer Roald Dahl has been voted favourite children's author in an online survey of UK primary teachers.
JK Rowling and the Gruffalo author Julia Donaldson came joint second, with The Gruffalo voted best book.
Siobhain Archer, founder of the Teachit Primary website, said Dahl was named by a "staggering" 17% of those surveyed.
Teachers said Dahl's best were Charlie And The Chocolate Factory, The Twits, Danny The Champion Of The World, The BFG and George's Marvellous Medicine.
His literary estate manager Amanda Conquy said: "They are joy to read aloud. They are also very varied."
'Contemporary' appeal
Dahl, who died in 1990, came ahead of his contemporary colleagues in a survey of 848 primary school teachers across the UK by the education resources website Teachit Primary.
Ms Archer said that although The Gruffalo was voted best book, Dahl's work was dominant in the list.
"Five of Roald Dahl's books appeared in the top 10," she said.
"When counted together with all those who could not name a favourite title but who said any of Dahl's books were a hit with their classes, a staggering 17% of primary teachers named him as their favourite children's author.
Ms Conquy, who is also chairman of Roald Dahl's Museum and Story centre in Great Missenden, Buckinghamshire, where the author lived, said one of the stories' strengths was that they had not dated.
She said: "They seem as contemporary now as they did when he wrote them.
"Each one is very different. What's similar to them all is that they are really funny.
"Teachers would find Road Dahl easier to read to their class than they would the Harry Potter books.
"The Harry Potter books are brilliant but they are very long and they are very dense and a lot of children love them, but they are not so good to read aloud."
She added that Dahl's story also has a sense of morality about them that they shared with traditional children's stories or fairy tales.