The Story of Wales: Half crown 'gamble' behind David Davies' coal empire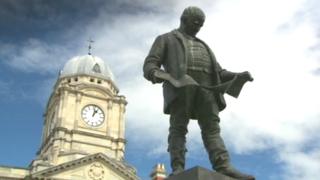 Not all of history's significant moments are accompanied by a trumpet fanfare and the tumbling of castle walls.
In the case of the meteoric rise of the south Wales coal industry, and the subsequent transformation of a small Welsh village into a bustling global port, it is worth considering the part played by a quick-witted entrepreneur with a humble half crown coin.
The story is told by presenter Huw Edwards in part five of BBC Wales' history series, The Story of Wales.
By the middle of the 19th Century David Davies, from Llandinam in Montgomeryshire, had made a modest fortune building railway lines during the steam transport boom in Wales.
Inspired by the success of the Bute family in setting up the first coal mine in the Rhondda valley, Davies turned his own focus towards finding his own rich seam of Welsh steam coal, 'black gold' as it came to be known.
He rented some land in the Rhondda Fawr and started searching for a workable seam. For 15 months his men dug into the ground but to no avail.
"The financial strain is appalling," explains Edwards, "even for a rich man like him. And despite wanting to continue digging he has to face up to the fact that he has run out of money.
"He gathers his men together, pays them the money he owes them and appeals for a final chance.
'Gesture'
"He digs his hand into his pocket, takes out a single half crown coin - worth about 50p in modern money - and says: 'There you are. That's all I've got'.
"Someone in the crowd shouts: 'We'll have that as well' so he throws the coin into the crowd and it's that gesture, that impulse which impresses the men.
"And they agree to go on working for another seven days without pay."
The rest, it is said, is history. On the seventh day of digging with no pay, on a piece of land in Ton Pentre, Davies's men found a massive seam of the best-quality steam coal.
Davies's empire grew and the expansion of the coal industry continued apace until there were mines in 16 valleys across the south Wales coalfield.
In response to the growth of Cardiff as the biggest coal port in the world, Davies threw his weight behind the development of another port just up the coast, and the small community of Barry grew from a small village to become one of the busiest docks in Britain.
And all because of David Davies's quick thinking and half crown coin?
The story is told in Ivor Thomas's 1938 biography of Davies, Top Sawyer. And Cardiff University historian Dr Bill Jones says there is no reason to suppose it is apocryphal.
'Charismatic'
"It's possible that you could find a source to corroborate the story but, if you couldn't, it doesn't mean that it didn't happen," says Dr Jones.
"David Davies seems to be the sort of person who could well have done that sort of thing. He was a charismatic man, there's no doubt about that.
"He was a self-made man from lowly origins and there are plenty of stories from his later years of him getting in among his workmen, talking to them and chipping in."
As for Davies's subsequent contribution to the rise of the coal industry, Dr Jones's view is that another would-be coal magnate might easily have succeeded if Davies had failed in his search for coal, but Davies was renowned for his stickability.
"There were a phenomenal amount of failures," he says. "He persevered where many others gave up. His spirit kept his company, the Ocean Coal Company, going. He bought up other collieries and developed new pits."
Although it cannot be claimed that Davies developed the port of Barry single-handedly, he was certainly the driving force behind its development, says Dr Jones.
"There were others involved, " says Dr Jones. "but the drive and the vision is his. He was willing to take a gamble."
A gamble, perhaps, that began with a humble half crown coin.
The Story of Wales: A New Beginning can be seen on BBC One Wales on Monday 19 March at 21:00 GMT. The series is available on iPlayer.