Remploy closures: Devolution idea for Welsh factories rejected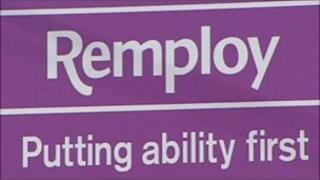 The UK government has again rejected a request to devolve responsibility to the Welsh government for Remploy factories which are set to close.
In the House of Lords, Labour peer Lord Touhig raised the Welsh government's offer to take over the budget with UK government whip Lord de Mauley.
Lord Touhig said keeping the seven closure-threatened factories open would keep people in work and off benefits.
But the UK government whip said the factories' budget was not devolved.
Remploy factories across Wales are projected to lose more than £6m in the current financial year, according to a report from accountants KPMG.
The factories under threat are at Aberdare, Abertillery, Bridgend, Croespenmaen, Merthyr Tydfil, Swansea and Wrexham, putting 281 jobs at risk.
UK government whip Lord de Mauley told the Lords that Remploy took up one-fifth of the entire budget for employment support for disabled people, and there was a more appropriate way to target resources.
The former Plaid Cymru leader, Lord Wigley, said the Welsh government was already being required to take on new responsibilities under the Welfare Reform Act.
This week, Minister for Disabled People Maria Miller said she was willing to work with the Welsh government to see if any of the sites could stay open.
But she has ruled out any further UK government subsidy and devolving responsibility to the Welsh government.