Six Nations: Grand Slam joy as Wales beat France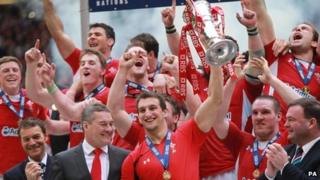 Welsh fans are celebrating a third Six Nations Grand Slam in eight years after Wales beat France 16-9 at the Millennium Stadium.
The Welsh government also announced an official celebration ceremony outside the Senedd building on Monday evening.
Up to 250,000 descended on Cardiff either to be at the match or watch the game in the supporters' village and the city's bars.
Alex Cuthbert scored the game's only try, Leigh Halfpenny kicked the rest.
It secured Wales' third Grand Slam in the last eight years.
A celebration ceremony, hosted by the Welsh government, will be held on the steps of the Senedd on Monday evening.
Fans will be able to watch the ceremony from 18:00 GMT when First Minister Carwyn Jones will formally re-present the Six Nations trophy to coach Warren Gatland and captain Sam Warburton.
The squad and coaching staff will then attend a private reception hosted by Mr Jones and presiding officer Rosemary Butler.
'Proud'
"Today, we witnessed the arrival of a new generation of Welsh rugby heroes - a group of players who have equalled the success of those great Welsh teams of the past," Mr Jones said.
"The pressure was entirely on Wales to perform today and they won in style. This match - more than any other in this year's Six Nation tournament - showed just how mature this young team really is.
"In the space of just five months, they have reached the World Cup Semi-Final and won the Grand Slam.
"Today, Welsh rugby moved up a significant notch. We are now without doubt, the predominant rugby team in the Northern Hemisphere.
"My congratulations go to the players, to Warren Gatland and the coaching staff for what they've achieved for our country today. They have made Wales proud.
Welsh Rugby Union group chief executive Roger Lewis, said the squad had written an important new chapter in Welsh rugby history which deserves recognition.
He said: "They have won the tournament by playing a brand of engaging and compelling rugby which has thrilled followers of the game around the world.
"I am delighted the Welsh government has decided to host this event to show how much the people of Wales appreciate this achievement."
Celebrities also posted congratulatory messages on Twitter.
Lord Alan Sugar said: "Well done Wales great win over France," while James Corden tweeted: "Great day for Wales! Wish i was in Cardiff tonight. It'll be rockin'!!!!"
Former boxing champion Joe Calzaghe said: "Congrats to Wales! Grand Slam Champs 2012! :-)."
And David Hasselhoff, watching in Hollywood with his Welsh girlfriend, posted: "Congrats Wales !!! Even my dad was rooting !!!" and later said: "Hoff the Charts !!! Cymru am Byth!! Congrats to Wales !!"
Among those watching abroad were soldiers from the Queens Dragoons Guards and the Royal Welsh in Helmand province in Afghanistan.
Before the match, there was a more sombre mood marked by a minute's silence, in memory of Mervyn Davies.
The former British Lions and Wales hero died on Thursday, aged 65.
Both teams wore black armbands as a mark of respect to "Merv the Swerve".