Mothers of Africa charity aims to reduce maternal deaths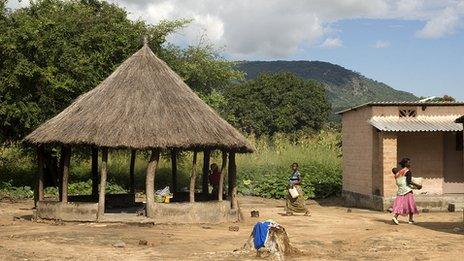 A professor at the University Hospital of Wales (UHW) hopes Welsh expertise and training could help prevent expectant mothers in sub-Saharan Africa dying needlessly.
Judith Hall, professor of anaesthetics, intensive care and pain medicine at the Cardiff hospital, is also the founder of the charity, Mothers of Africa.
After returning from a fact-finding trip to rural Zambia, she relates how she found women dying, not from lack of resources, but from lack of education and best practice.
While the maternal mortality rate in Wales is 10 per 100,000 births, across southern Africa that figure is 600, and considerably higher again in rural areas.
"There's 13m people across the vast expanse of Zambia, most of them in isolated communities like the one I visited in Chongwe," said Prof Hall.
"We can't do anything about the geography, and in the short term at least, we can't do anything about the number of hospitals or the transport infrastructure.
"But we can stop women and babies dying for want of knowledge about how to position mothers in labour on their sides, and because there's only one oxygen cylinder between four operating theatres, which, once empty, takes four days to get filled again."
"It would be easy to get depressed with the situation, but on the plus side these are things which cost pennies, and once the knowledge is there, it's there forever."
Prof Hall is hoping that a 33-mile charity walk along the Taff trail later this month will not only raise funds for Mothers of Africa, but also create awareness of the average 33-mile journey faced by Sub-Saharan women seeking obstetric care.
The money raised will go towards solar-powered clinics which can be used both as rural treatment points, and centres of excellence to share knowledge amongst care givers.
"The solar-powered classrooms themselves cost £4,000 each, and in very cold terms, will pay for themselves in months, if they prevent even a fraction of the deaths."
The Overseas Development Institute finds that of all the United Nations' millennium development goals, the fifth - to reduce maternal mortality - is doing the worst, with figures worsening since the targets were agreed in 2000.
"Where I was in Chongwe province, the majority of the problems came from a lack of early intervention," she said.
"If there's a facility where local people can treat basic conditions, or access the internet to diagnose more complicated conditions, then we can make huge inroads into that maternal death rate."
The volunteers Prof Hall is hoping to train in Zambia will also be taught how to share their skills with others, and cascade knowledge across Africa.
"Wales is only a small country, and we have to accept that there's a limit to what we can achieve. We can't be in Africa forever - sooner or later we will have to walk away," she said.
"But in Wales we do have the ability to train volunteers to save lives in Chongwe.
"And if the people in Chongwe can use those skills to save others across Zambia… pretty soon you can see that a small change can have a big effect."
Related Internet Links
The BBC is not responsible for the content of external sites.