Leveson Inquiry: South Wales Police concern after Bridgend suicides coverage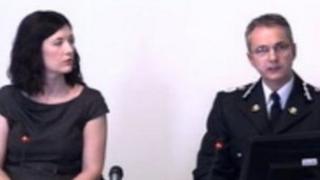 South Wales Police became suspicious of national newspapers after the coverage of suicides in the Bridgend area in 2008, the Leveson inquiry has heard.
More than 20 young people apparently took their own lives in Bridgend county between 2007 and 2009.
Chief constable Peter Vaughan told the inquiry the families of people who died were critical of some media reports.
He said: "We probably recalibrated the way we dealt with the press." But Mr Vaughan praised local press coverage.
He was the latest in a number of police and media figures from Wales giving evidence.
He said: "I think the local community, the local politicians, the local authority, ourselves, were quite critical of the way the community and the families of the bereaved were treated by certain sections of the media.
"We were a little bit dubious about some of the motivations - not the local press because we've had a good relationship with them - it's professional, it's appropriate - but it does cause you to think about what you are saying to individuals."
He said the coverage led to the Press Complaints Commission holding an event in the area for families to speak and air their grievances.
He added that by 2009, there was a "degree of scepticism" about some press coverage of the deaths and "we were suspicious of the motivations of the press, whereas perhaps we hadn't been in the past.
"We were more guarded in what we were saying at that time."
Mr Vaughan said his officers and staff were working under the constraint of cutting £45m from the budget of a "fairly busy force," which had seen him lose 420 post from just under 5,300 posts.
He later told the inquiry that he regretted his force taking part in the BBC TV show Traffic Cops a few years ago.
He said: "We have had experience of engaging with some programmes where we probably wished we didn't and hadn't engaged with them.
"It's a hugely popular show, but it keeps being reshown on different satellite channels, and perhaps some of the behaviour that you see in that isn't the behaviour that we want reflected into the wider community."
The inquiry, sitting at the Royal Courts of Justice in London, was adjourned until Monday.