Plan for quicker adoption system in Wales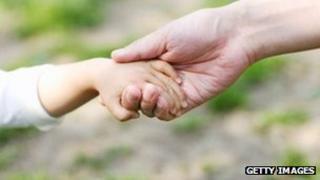 Would-be parents should not have to wait so long to be approved as adopters, the Welsh government has said.
Ministers say creating a national adoption service will help eliminate waiting lists for prospective adopters.
It is designed to get rid of delays in the time it takes to place children with families.
Deputy social service minister Gwenda Thomas heard one family's experience of the adoption system on Thursday.
She is consulting on legislation that would bring local adoption agencies together to form a single service.
The service would not replace adoption agencies but would, officials say, help remove duplication which draws out the process of approving prospective parents and finding permanent homes for children.
They say pooling skilled staff who are familiar with a complex system will make it more efficient.
Agencies have recently reported a reduction in the number of parents approved for adoption. Meanwhile, assessing potential parents can take between six and eight months, the Welsh government says.
The average time spent in care by the 252 children adopted last year was 905 days.
Mrs Thomas was meeting the Jones family in Cardiff who have three children, two of whom are adopted.
Delay
She said: "We can learn a lot from families who have already undertaken this journey, that is why we will commission research into the experiences they faced to identify barriers and their perceived reasons for delays in the adoption process.
"Any delay to a child's case can be detrimental to their prospects for adoption and we are looking at all possible ways to help a child settle with their adoptive family sooner."
She added: "The new national adoption service will work with existing agencies, in ensuring that children languishing in care, where adoption is in their best interests are not left one more day than is necessary.
"I want to eliminate waiting lists for prospective adopters, who routinely face delays for training and assessment, improve the matching process, allay adoption breakdown by a comprehensive adoption support service and streamline the adoption process."
Gerry Cooney, chief executive of St David's Children's Society, said he fully supported plans for a national adoption service.
"It could be the single, greatest vehicle to improve life chances for the most vulnerable and disadvantaged children," he added.
"It will place Wales at the vanguard of adoption services in the UK and at the same time will deliver significant savings to child care budgets."