Black grouse numbers rise in Wales, but only in RSBP-managed areas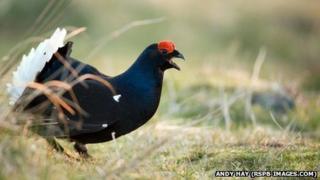 Wales is leading the way in saving the black grouse, one of the UK's most endangered birds, says RSPB Cymru.
Once a common sight on grass and moorland all over the UK, numbers have fallen from 25,000 breeding pairs in 1970 to just 5,000 by 2005.
No firm reason has been identified for the decline but housing encroachment on the countryside and more intensive methods of agriculture may be to blame.
However, its population may have trebled in Wales in just over 15 years.
The latest RSPB Cymru figures indicate the population in Wales of the birds, in common with those in Scotland, appear to be reversing the downward trend.
However, the charity says that measuring the black grouse population is not an exact science, and the best it can do is extrapolate a figure after observation during breeding season.
RSPB Cymru's head of biodiversity Stephen Bladwell said: "The breeding season is between mid-March and mid-May.
"During those times the male birds put on elaborate courting rituals called leks, where they puff out their throats and tails, make distinctive calls and dance to attract females."
"That obviously makes them much easier to count. Whilst the hens usually remain camouflaged, we can count the cocks, and estimate the overall population from that."
When the Welsh black grouse population was first surveyed in 1997, there were at least 120 breeding pairs.
This year that minimum figure was 328, mainly in north and mid Wales, and particularly strong in RSPB Cymru's reserve at Lake Vyrnwy.
It means the Welsh Black Grouse Recovery Project - set up in 1999 to halt the decline of these birds - has surpassed the 2015 biodiversity action plan target of 270 lekking males, four years earlier than expected.
Mr Bladwell said: "We've been successful in working with farmers and other agencies to help create the sort of environments where they thrive - moorland wilderness areas with supplies of their favourite foods, fresh heather shoots and various small berries."
"We've also had a couple of dry Junes, which is essential in helping to reduce chick mortality and introduce new blood into the following year's breeding pool."
But he warned that the black grouse is still far from safe.
He said: "The latest survey is definitely very encouraging, let's not be too defeatist.
Gene pool
"But because we're not entirely sure why it went into decline, we can't say for certain that the black grouse has definitely recovered."
"They are particularly strong in areas like Lake Vyrnwy, the Wynnstay Estate, and to the north of Ruabon in the Clwydian Range and Dee Valley Area of Outstanding Natural Beauty.
"But we'd like to see them spread out further, so that the population wasn't so concentrated in the areas carefully managed by RSPB Cymru and our partners."
In Scotland the black grouse population has also rallied, with some experts now calling for Welsh and Scottish birds to be cross-bred in order to broaden the gene pool and prevent localised diseases and conditions.