Rowan Williams says state cannot solve all problems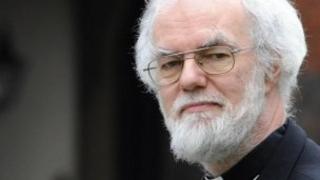 The Archbishop of Canterbury has said there is a problem of people depending on the welfare state.
Dr Rowan Williams said it was wrong to think of "centralised state provision as the solution to everything".
He was delivering a speech at the Welsh assembly following a weekend spent in his native Wales.
Dr Williams, who steps down in December, gave his views on what unites communities.
He said community was incompatible with "passive welfarism" or "passive statism" - "an assumption that the state is the provider of solutions and solver of problems".
'Enormous achievements'
He said: "We may bridle as I sometimes instinctively do at the way welfarism is used in a derogatory sense these days, because the achievements of public welfare have been enormous.
"Yet there is some substance to that suspicious use of welfarism.
"There is a problem about dependency. There is a problem about assuming somebody else resolves the problems and there is certainly a problem about centralised state provision as the solution to everything.
"And those who have recently from both left and right pointed out that welfarism is not good news for those who want a mutually responsible active, creative community have not been wrong."
Dr Williams's return to Wales included a school assembly in Aberdare, a lecture in Pembrokeshire, and services at St Davids, Llandaff, and Trecynon.
On Monday he also saw a debate among young people at the assembly's Pierhead building in Cardiff Bay organised by the educational charity CEWC Cymru, which seeks to develop active citizens.
In his speech, he said it was "vitally important that in the educational world that we take education seriously and do not reduce it to training and skills alone".
"We are not simply preparing people to be cogs in a wheel or items on a list. We are preparing people to understand themselves and the society they inhabit."
He praised approaches to health and education policy taken in Wales since devolution, but said there was an "unresolved question about how to break the political mould".
"I'm sticking my neck out a bit here, when I look at party divisions in the assembly I note that of course they reproduce to some extent party divisions in the UK more widely.
"I'm looking at people around here who belong to Welsh Conservatives, Welsh Liberal Democrats and Welsh Labour groupings and I wonder how the connection is made, whether sometimes there's a temptation to take for granted that you have to reproduce familiar national patterns here."
Born in the Swansea Valley, the archbishop's visit came a week after he announced his decision to step down.
He said it was the "proper time" to review his options, and to give his successor time to prepare for the next big conference of the Anglican communion.
He told BBC Wales that 10 years was a "reasonable time" to do a job.
Dr Williams will return to academic life in January as master of Magdalene College at Cambridge University.