RSPB figures show more herring gulls are spotted on Wales' school playing grounds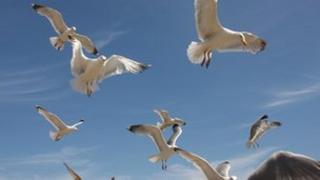 Gulls are increasingly at home on Wales' school playing fields according to the latest Royal Society for the Protection of Birds (RSPB) figures.
The list includes the herring gull which is on a conservation 'red list' due to a decline of more than 50% in its numbers over 25 years.
Over 110,000 birds were counted in this year's Big Schools' Birdwatch.
The top bird remains the blackbird which was seen at 85% of the 100 schools involved in the count.
Herring gulls were still only seen in just over 10% of schools but numbers spotted have risen over the last five years by more than 46%.
The gulls forage for food by stamping their feet on the ground to bring invertebrates to the surface.
"TheBig Schools' Birdwatchis a brilliant way of getting young people interested in nature and excited about what they can see through the classroom window," said Jon Gruffydd, RSPB Cymru's lifelong learning manager.
"It's all too easy for them to miss those opportunities to get outside and understand the world around them. Big School's Birdwatch gives children the chance to step up for nature."