New renal unit in Llandrindod cuts patient journey time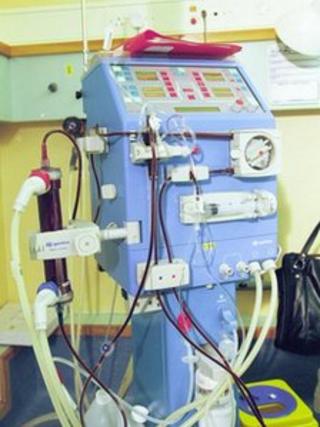 A renal unit set up to reduce the journey times for dialysis patients by up to an hour has opened.
The unit at Llandrindod Wells Memorial Hospital in Powys, will operate for six days a week.
Previously, patients had to get treatment at Hereford or Shrewsbury, but the new unit will mean patients will not have to travel so far.
Plans to offer treatment closer to patients' homes in Llandrindod Wells and Welshpool were announced in 2009.
Dialysis removes excess fluid, salt and wastes from failing kidneys, which builds up in people's bodies.
The dialysis process, which can take up to eight hours a day, can leave the patient feeling tired.
The first patient in the Llandrindod Wells unit on Monday was Gwynfa Hughes, who is from the town.
The 76-year-old said it was "wonderful" to access treatment on her doorstep.
"I left the house at 7.15 this morning and was there just after twenty past. Before I've had to travel to Worcester, Birmingham and Hereford.
"I've travelled 400 miles to get to treatment before now and I need dialysis on Monday, Wednesday and Friday. I really can't get over how fantastic it is to get this facility in Llandrindod."
Mrs Hughes said she felt "like and 18-year-old" after her treatment.
"A friend came to the house to help me because I can feel a little doddery after treatment but this time I feel wonderful," she added.
The development of the unit is a partnership between Powys Teaching Health Board, the University Hospital Birmingham, the Welsh Renal Clinic Network and the Welsh government.