Meeting over threatened Remploy factories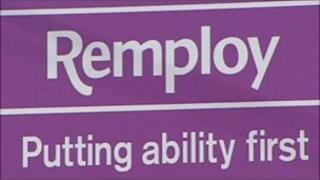 Options for seven threatened Remploy factories have been discussed by Education and Skills Minister Leighton Andrews at a meeting.
Sites at Aberdare, Abertillery, Bridgend, Croespenmaen, Merthyr, Swansea and Wrexham are all threatened with closure, putting 281 jobs at risk.
A report projected they were scheduled to lose £6m over the coming year.
The UK government has rejected a request to devolve responsibility for the factories to the Welsh government.
Mr Andrews chaired the meeting, which included representatives from the Welsh Local Government Association, Social Firms Wales, the Wales Co-operative Centre and South Wales Chamber of Commerce, housing groups and Remploy Baglan.
The group decided the Welsh government would continue to press for a constructive dialogue with the UK government, while aiming to maintain employment for Remploy staff in Wales.
Mr Andrews said: "We remain profoundly disappointed with the decision by the UK government to reduce its current subsidy to Remploy, resulting in the closure of factories here in Wales.
"I have asked [UK disabled persons minister] Maria Miller to devolve funding for Remploy factories in Wales for the next three years and the First Minister has written to the Prime Minister to welcome his commitment to consider proposals to devolve responsibility for Remploy factories to Wales.
"We will continue to apply pressure to the UK government on this matter.
"Although it is for the UK government not the Welsh government to bear the responsibility for its decision on Remploy, we will not stand by and see jobs lost unnecessarily in Wales.
"We have said that we will work with Remploy, the unions and other interested parties - of which there are many - to see if we can find a viable option for the workers in Wales using the powers available to us. This meeting is the first part of this process."