English bet-loser's Wales tattoo after rugby team's Grand Slam victory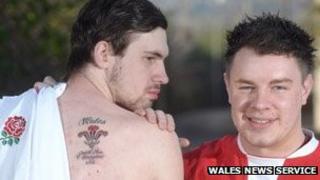 An Englishman has had a Wales tattoo etched on his back after losing a bet that England would win the Six Nations rugby tournament.
John Adam's Welsh friend James Griffiths insisted he have the Prince of Wales' feathers inked on his skin as part of the wager if Wales won.
So when the team won the Grand Slam, Mr Adam, 22, had the 15cm (6in) tattoo.
Tattooist Dan Harris said sports fans often get commemorative tattoos "but usually for their own team".
Mr Adam, who is a psychology student at the University of Glamorgan in Treforest, Pontypridd, said the tattoo "looks nice".
"It's just a shame I'm English. It would be a great tattoo for a Welshman," he added.
As part of the deal, his friend Mr Griffiths, 21, agreed to have an English rose tattoo if England won the Six Nations.
But as Wales went unbeaten to win the Grand Slam, Mr Adam, who was working at the Millennium Stadium during the team's final match, realised he would be the one getting an opposition country's tattoo.
"I heard the huge roar at the end of the game. I knew that I was going to have to go through with it," he said.
"I literally curled up with my head in my hands and asked myself what on earth was I thinking."
'Stupid bets'
Mr Griffiths accompanied his friend, originally from Plymouth in Devon, to the studio and paid for the £35 tattoo.
The final year students have been friends since they met during freshers week and now live together.
Mr Griffiths, who studies criminology, said: "John makes stupid bets all the time but this is the first time it's ever led to a tattoo.
"I asked him what hurts more, having the tattoo done or your wounded pride.
"If he wanted it it would have been a great tattoo, unfortunately he didn't. Now he's stuck with it forever."
Mr Adam had the bright red design etched on him during an hour long session with tattooist Mr Harris, who said: "In 20 years his kids will probably ask him why he's got that tattoo when he's English.
"And he's going to have to tell them it's because Wales have a better rugby team."