£40m fund to help 50% more SMEs in Wales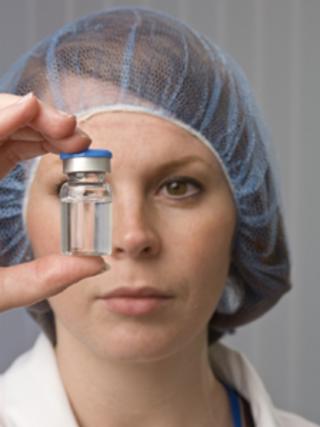 A £40m investment fund to help small and medium businesses (SMEs) has been launched.
The Wales SME Investment Fund was announced last year but is now "open for business," said Edwina Hart, Business Minister.
She hopes the fund will create up to 4,000 jobs by providing debt and equity investment.
The Federation of Small Business wants more details, saying many struggled to afford finance from banks.
It is hoped 50% more SMEs will be able to apply for funding via the scheme.
Currently, help for SMEs comes from European funding.
The fund was announced in December 2011, at the same time as a £15m growth fund for small businesses.
The fast track grant fund for investments was set up to provide short-term assistance to businesses in Wales in response to the current global economic crisis.
It enabled Welsh businesses to apply for a minimum of £100,000 of matched funding to create and safeguard jobs.
The investment fund is being launched at Bridgend-based Biotec Services International, which is looking to take on up to 15 more staff.
The pharmaceutical firm specialises in temperature-sensitive products and has borrowed £700,000 from Welsh government sources to help pay for recent expansion.
Finance director Ravi Nalliah said the firm had considered relocating out of Wales until receiving loans over five years to take on additional premises on Bridgend Industrial Estate and hire more staff.
He said: "In the current state, it's very hard to borrow from the banks. For SMEs in Wales to grow and meet their aspirations, they need access to funding.
"We did talk to the banks. We're very much a service-based business - we're not asset rich despite having health cash flows - and the banks just weren't interested."
The Federation of Small Businesses (FSB) said: "A recent survey of our members in Wales showed that many small businesses are turning to savings, inheritance and retained profits due to an inability to obtain affordable finance from traditional means, such as banks, when they most need it.
'Non-bank finance'
"We look forward to receiving more details on how the fund can be accessed and how it will operate, particularly regarding the rate of interest which will be applied to the loans.
"However, what we want to see now is a greater commitment to looking at alternative routes to finance.
"Non-bank finance must become more embedded in our financial infrastructure, so that there are far more viable, affordable options for small businesses."