Street football's bonus points system for respect in Swansea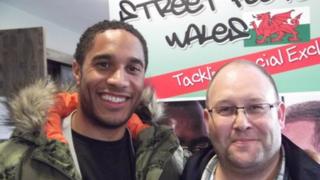 A street football project has introduced a bonus system allowing teams to gain extra points for respecting the opposition.
Teams in the Street Football Wales tournament can also get extra points for showing leadership potential.
The project in Swansea was set up with homeless people and now 24 four-a-side teams will compete in east and west Wales divisions.
Swansea City and Wales defender Ashley Williams is supporting the project.
The 'Respect' scheme will also allow teams to gain credits which can be used towards training courses and sports kits.
The Street Football Wales project, set up to tackle the issue facing homeless people, is funded by the Big Lottery Fund.
It aims to use football as a vehicle to teach players the skills they will need to move forward with their lives and address the problems which saw them on the streets in the first place.
Keri Harris, Project Leader for Street Football Wales said: "It's a really exciting time. Full-time resources have been invested into the project and we have had unbelievable support from the players who are unsurprisingly full of fantastic ideas."
The season kicks-off on Wednesday, following FIFA's international street football rules, with mixed-sex teams of four players and rolling substitutions.
It also aims to build on Wales' success at the last Street Football World Cup in Italy, where the side bucked their second-bottom world ranking, to beat Sweden 9-7 in the final of the Communities Cup for mid-seeded teams.
As patron of the charity, Ashley Williams has worn a Street Football Wales armband for Swansea City's recent Premier League matches, and will be attending the opening fixtures in the west Wales division.
"It's great to see the issue of homelessness being addressed in a positive way through sport," he said.
"Football gives people a chance to be part of a team without being judged for who they are or where they've come from."