Ex-Visteon staff from Swansea hold Downing Street pensions protest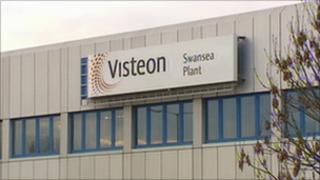 Former workers at the Visteon car parts factory in Swansea demonstrated in London to mark the third anniversary of the company entering administration.
The group have been campaigning for improved pensions since the company's collapse.
Visteon UK entered administration in 2009, resulting in the closure of its Swansea plant.
The car components firm had been on the site since taking over the Ford operations in 2000.
On Wednesday, around 50 former Visteon Swansea workers joined colleagues from other parts of the UK to present a petition at Downing Street and then gather outside parliament.
They claim the value of their pensions dropped substantially when Ford transferred their retirement funds to the care of Visteon.
The union Unite began legal action against Ford over the issue in the High Court in January 2011.
Former worker John Elvins said: "We only transferred on the basis of the promises that Ford were making to us.
"We're asking Ford to uphold these promises.
"I've lost nearly 40% of my pension that I was told I would get on retirement.
"The effect of it is that after 40 years, and working for seven years at Visteon, I've ended up with a 26-year pension."
Plaid Cymru AM Bethan Jenkins said: "Hundreds of Welsh workers have lost significant sums of money after being misled in the most callous way.
"They continue to wait for Visteon and Ford to own up to their responsibilities and pay the £350m deficit that they owe.
"The issue will not go away until workers have secured a fair settlement, and the sooner that happens, the better."
Ford says it views the claim as being without merit, and will defend its position vigorously.
'Severity'
In a statement, the firm said: "While Ford recognises the severity of the situation for former Visteon UK employees, Visteon became an independent company in 2000 and was responsible for its own business decisions.
"Ford was not involved in Visteon UK Directors' 2009 decision to put Visteon UK into administration.
"Consequently, Ford believes that questions regarding Visteon UK being placed into administration and the subsequent impact on the Visteon pension fund should be answered by Visteon UK management and the trustees of the Visteon pension fund.
"Visteon still operates today as a large-scale automotive component supplier across Europe, Asia Pacific and the Americas."