Teenage pregnancies in Wales at 18-year low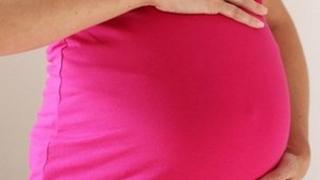 Pregnancies in girls under 18 have fallen to their lowest rate in 18 years, Welsh government figures show.
In 2010, 37.7 per 1,000 girls under 18 became pregnant, compared to 40.1 per 1,000 in 2009. It is the lowest rate since 1992.
The Royal College of Midwives said while the downward trend was welcome it was worried about the high number of teenage abortions.
The Welsh government said the figures reflect work to promote sexual health.
Helen Rogers, director of the Royal College of Midwives Wales, said Wales had once had one of Europe's highest pregnancy, but the figures should be considered in the context of the wider picture, with the abortion rate for the age group rising.
Welsh government statisticsfor 2010 show that 45% of conceptions for under-18s were terminated, compared to 20% for all ages.
"In areas like Merthyr Tydfil where the teenage pregnancy rate has come down quite considerably, an amazing amount of work has been done," she said.
"It's an issue that's high on everyone's agenda and clearly time and effort and finances have gone into that.
"Wales had one of the highest rates in Europe at one point so we are going in the right direction.
"But my word of caution is that while pregnancy rates have come down, the rates of termination among that age group are very high.
"While I'm not saying there's a direct correlation between the pregnancy and abortion figures, I am worried that abortions may be being used as a form of contraception.
"Clearly we need to get the message out there that teenagers should have protected sex as we have also seen a rise in sexually transmitted diseases."
She said education was the key to ensure both teenage girls and boys had a healthier attitude to sex.
In Wales, pregnancy rates for girls under 18 varied considerably on average between 2008 and 2010, from 59.8 per 1,000 girls aged 15-17 in Merthyr Tydfil to 23.8 in Monmouthshire.
Despite the downward trend in teenage pregnancies, the statistics show that the number of girls under 16 getting pregnant in Wales rose slightly from 7.3 per 1,000 in 2009 to 7.8 in 2010.
The rate in the late 1990s was about 11 per 1,000.
'Significant impact'
The Welsh government said it planned to build on the downward trend to ensure teenage pregnancy rates continue to fall.
"While we expect these figures to fluctuate slightly year on year, it does appear as though the overall trend in teenage pregnancy in Wales is downwards," a spokesman said.
"This overall decrease reflects our integrated approach in Wales via the sexual health and wellbeing action plan for Wales 2010-2015.
"The plan promotes sexual health and healthy choices for women and girls, including relationships and sex education, safer sex and contraceptive services.
"Building on this downward trend, the Welsh government is funding Public Health Wales (PHW) to deliver a phased teenage pregnancy programme.
"This programme has the potential to make a significant impact on teenage conception rates in the future, potentially reducing teenage conception rates by up to a further 10% through the promotion of Long Acting Reversible Contraception (Larc) and improved access to services, resources, information and support for young people."
The Welsh government figures come after the Office for National Statistics reported last month that across England and Wales the teen pregnancy rate has reached its lowest since 1969.
They showed that conceptions in under-18s fell to 34,633 in 2010 compared with 38,259 in 2009, a drop of 9.5%.