Police doctor Marcos Hourmann acted dishonestly over conviction, GMC finds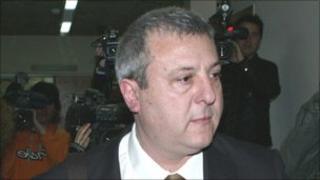 A doctor who failed to tell his police and NHS employers about a manslaughter conviction acted dishonestly, a watchdog has found.
Dr Marcos Hourmann, 52, worked for Dyfed-Powys Police and NHS trusts in Carmarthenshire and Suffolk while he was being investigated in Spain.
He was convicted of manslaughter after the so-called mercy killing in 2005.
The General Medical Council (GMC) may decide next week if he should be punished.
The GMC's fitness to practise panel will consider whether his actions amount to misconduct and, if so, whether the doctor should face punishment, such as being struck off.
The panel, sitting in Manchester, is not expected to arrive at a decision until next week.
Dr Hourmann, who qualified as a doctor in Argentina and now lives in Spain, was not present at the hearing and was not legally represented.
Death's door
He was accused of misconduct and dishonesty because he hid the investigation and his conviction from the GMC and his employers. He also broke medical rules by failing to inform the GMC.
Dr Hourmann was suspended by Dyfed-Powys Police from his post as a forensic medical examiner in October 2010 when his conviction came to light.
He had worked for the force and the NHS trusts for more than two years.
Dr Hourmann was convicted of manslaughter after injecting a seriously ill cancer patient to "rid her of the unbearable suffering", while working at a hospital in Spain in 2005, the GMC was told.
Within a year he came to the UK and started working for the West Suffolk NHS Trust before getting another job with Carmarthenshire NHS Trust. He was later offered a job with the police.
Dr Hourmann received a 12-month suspended sentence in Catalonia in 2009.