Carrier bag charge: Supermarkets say use in Wales cut up to 90%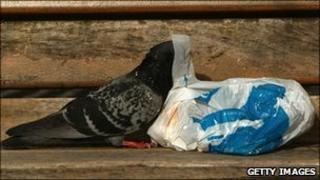 Supermarkets say the charge on single use carrier bags introduced in Wales has coincided with a reduction in their use of up to 90%.
Six months since a minimum 5p charge per bag was introduced, several major supermarkets have released provisional figures to BBC Wales.
Sainsbury's saw a 90% fall, the Co-op reported 86% and Morrisons 60%.
In 2009, shoppers across the country took home an estimated 350m carrier bags from the major supermarkets.
The new figures suggest hundreds of millions fewer single use carrier bags could be handed out this year in supermarkets alone.
Sainsbury's, which pointed out it had been encouraging customers for a long time to minimise the use of carrier bags, said: "The scheme is working well and has clear benefits both for the environment and for charities.
"Over the last three months we've seen a drop of around 90% in the use of single use bags in our Welsh stores."
The Co-op said it had seen an 86% reduction since the charge was introduced on 1 October last year.
"The introduction of the 5p charge has gone smoothly across all our stores in Wales. We believe this is largely thanks to staff training on how to communicate the introduction of the new charge, and because the change was clearly highlighted in store in advance," said a spokesman.
"However, we are conscious that as we are approaching the holiday season we will be receiving many customers from England who are not used to this charge, and therefore we are working with store colleagues to ensure that the message is well communicated once again."
'Encouraging customers'
Tesco said that since 2006 it had reduced bag use by over 50% through clubcard loyalty incentives for customers bringing their own carriers, and this had "risen to over 90% with the levy".
"Our stores have been doing their best to help shoppers through the changes and we've found that the majority of customers are adjusting well to the new legislation," said a spokesperson.
Morrisons said it was using around 60% fewer bags and had received "very few complaints, only one or two from people visiting Wales who were not aware of the regulations".
Richard Dodd, of the British Retail Consortium, said retailers had been taking action "in a big way" since 2006 to cut carrier bag use.
"Between 2006 and 2010, bag use in Wales had fallen by half - a really massive achievement all done on a voluntary basis with retailers encouraging customers in different ways," he said.
"It's not at all surprising that introducing charging has produced reductions. We would expect that, but that doesn't mean charging was the right thing to do.
"Those customers who find themselves needing a bag have to pay at a time when they're under pressure, and there's extra administration costs for the retailer."
He said there were far more significant environmental concerns than carrier bags, such as home energy use and food waste.
However, Friends of the Earth Cymru said the big drop showed that people had "quickly changed their habits and now take a bag with them when they shop".
"As well as the litter and pollution carrier bags create, valuable resources such as oil and water are used in their production, and climate damaging emissions released," said a spokesperson.
A Welsh government spokesperson said: "We have been pleased by how the Welsh public have adapted to the charge and are very encouraged by anecdotal evidence which suggests that Welsh consumers have used dramatically fewer bags since the charge was introduced.
"The first figures on bag use reduction will be available from May and we hope to see a bag use reduction of up to 90%."
In Wales, businesses with over 10 staff are obliged to keep a record of the number of bags issued and account for how the proceeds from the charge are used.
Retailers are being encouraged to give any profits to charitable and environmental causes.
Tesco has given £300,000 to RSPB Cymru, while the Co-op estimated around £100,000 would be available to support environmental projects around Wales.
Sainsbury's said it was supporting a variety of charities but did not reveal any figures.
Wales was the first UK nation to introduce a bag levy but Northern Ireland is introducing a similar scheme from April 2013.