'Benchmark' homeless and housing centre for Cardiff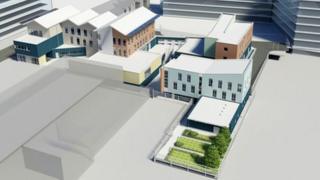 A homeless and housing centre that will be a "benchmark" for other cities to follow is opening its doors.
Cardiff council's Tresillian House and the independent Huggard centre are moving into the £8.7m complex following 18 months in a temporary home.
It groups together two hostels, a day centre, training facilities and the council's single assessment centre for homeless people.
The new centre will have beds for 44 people and another 23 emergency spaces.
Cardiff's council's housing cabinet member Lynda Thorne said the project was not just about providing a bed for the night but about the wider needs of homeless people.
She said: "It puts Cardiff firmly at the forefront of the provision of co-ordinated services for homeless people. Indeed, the centre is a landmark partnership project, one that is a benchmark for other towns and cities across the UK to follow."
Richard Edwards, chief executive of Huggard, an independent charity, said he had been "chalking off the days" until the move back to their base.
He and his team have been working in a situation which mirrors their clients' lives: making the best of living in unsuitable temporary accommodation.
Custom House, where the hostels were based for the revamp, was formerly home to the Welsh Rugby Union and designed for offices and workers rather than rough sleepers.
Its close proximity to the shopping centre, including the upmarket St David's 2 development, has created some tensions with local retailers, some of whom have claimed to have seen a rise in begging since the hostel moved to the bottom of St Mary St.
"Basic human needs"
What makes Huggard unique in Cardiff is that it runs the only drop-in day centre for homeless people where there are no barriers to entry.
Mr Edwards explained: "The services are initially very practical, [including] a kitchen with free food on the menu so if you have got no money you can eat, at least soup and bread, with extra supplements in the soup such as vitamins and minerals.
"We provide laundry services, a clothes store where people can get a change of clothes if there's one available, and washing facilities, meeting very basic human needs.
"A lot of people we get are excluded from most other services and places. When you have been on the streets for a couple of weeks, you are not welcome at many places."
The centre has an advocacy officer who helps the clients with the practical issues they face as a result of being homeless, such as no income, dropping off the benefit system, and issues with family.
Another key role is that of a substance misuse officer.
"A high proportion of clients have substance misuse issues," said Mr Edwards.
"We try to get them look at the problem, to try to reduce the harm to themselves, as many are still sharing needles, for example."
The Huggard hostel has a 20-bed hostel and 15 emergency spaces, while Tresillian House offers 24 beds and eight emergency spaces. Both have kitchens where people can learn basic cooking skills.
There is also a day centre, office and training complex for Huggard, and a council building housing a health suite, the council's front-line housing staff and an assessment centre.
The day centre is split into "wet" and "dry" areas, both with private gardens and separate access, which means people who want to drink will be kept away from those who want to avoid alcohol, often because of former dependency issues themselves.