NHS: Bevan Foundation report urges end of private practice by consultants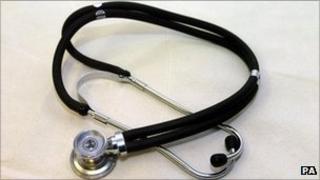 Private practice by NHS consultants should end, according to a report by a Welsh think-tank.
The report by the Bevan Foundation - named after NHS founder and Labour MP Aneurin Bevan - says it wants the original "fundamental principles" of the service back at its heart.
In A New Path Entirely, Dr Julian Tudor Hart also argues for ending GPs' roles as independent contractors.
The Welsh government said it remained true to the NHS founding principles.
Retired GP Dr Tudor Hart argued that NHS must represent former Ebbw Vale MP Bevan's vision of a "cradle to the grave" service rather than being "limited to demand-led clinical medicine".
'Local democracy'
"It is time to restore local democracy to the NHS," he added.
"Not the shrill voices of demanding consumers but the quiet voices of thoughtful people who bring their troubles, circumstances and experiences to inform how the NHS should operate."
Dr Tudor Hart claimed the changes would create a service "attractive to young healthcare professionals wanting to work in health delivered as a public service".
A spokesman for Health Minister Lesley Griffiths said: "The Welsh Labour government remains true to the founding principles of Aneurin Bevan's NHS, a comprehensive healthcare service that is free at the point of need.
"In Wales, we have taken this a step further by the introduction of free prescriptions and free hospital car parking."
The spokesman said the government's approach was based on a model of integration and collaboration "rather than the market-based approach of competition and privatisation being pursued in England".
"Together for health is our five-year vision for the NHS in Wales. We want a NHS that is based around community services and placing prevention, quality and transparency at the heart of healthcare."