The Voice: Chepstow singer's 'surreal' moment as she wows Sir Tom Jones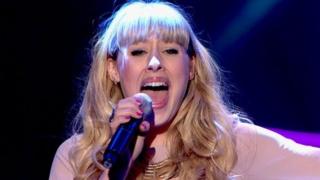 A student from Chepstow, Monmouthshire has described the "surreal" moment when Sir Tom Jones praised her singing on new BBC talent show The Voice.
Hannah Berney had grown up listening to the Welsh singer and hearing his rousing songs at the Millennium Stadium when Wales played rugby.
The 21-year-old appeared on Saturday's pre-recorded show and said she hoped it would be her big break.
She currently sings semi-professionally while studying at Exeter University.
The Voice sees singers facing blind auditions in front of four coaches, who are all big names in music - Sir Tom Jones, Jessie J, Will.i.am and The Script's Danny O'Donoghue.
The emphasis of the show is ensuring performers are chosen on the quality of their singing voice and not how they look.
The coaches sit with their backs to the stage and have to turn around during the singer's performance if they are interested in having them on their team for the rest of the competition.
Miss Berney said she had never been interested in auditioning for other TV talent shows - but liked the fact The Voice focused purely on singing ability.
She was invited to audition after producers contacted her manager and had to keep her involvement a secret from her friends.
But they and the rest of the country saw the singer take centre stage on Saturday when she impressed two of the judges - Sir Tom and Danny, who both turned their chairs around for her.
"I was so nervous when I went on stage," she said.
"So when the first chair turned around I was really relieved. And it's a compliment and a nod that I'm going in the right direction with my singing."
Before the show was aired she said she did not have a preference about which coach she wanted to work with.
She said: "I own albums from all the coaches and obviously with Tom Jones, I've heard his songs being sung so many times at the Millennium Stadium when Wales are playing."
On Saturday's show it emerged she had chosen to work with O'Donoghue.
Good feedback
But she said it was "surreal" to be singing for Sir Tom when he turned his chair around.
"It was incredible to meet him," said Miss Berney, who is in her second year studying history and French at Exeter
"It was really strange as my nan is from the same town as him in Pontypridd and they were in the same school - she was in the year below him.
"And to know all the people he's sung with - I was awestruck and it was surreal."
She added she was pleased with her feedback from Sir Tim and Danny.
"Tom said it was good that I didn't try too hard and did the song justice," she said.
"Danny was really respectful of my performance and said I'd sung the right notes and the tone was good."