Plantlife says Spreading Bellflower and Bastard Balm face extinction in Wales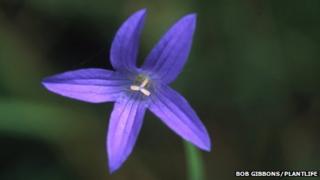 Two rare wildflowers face extinction in Wales, according to a charity fighting to keep the species alive.
Plantlife Cymru, a Welsh government-funded charity, says the Spreading Bellflower and Bastard Balm are dwindling in number in woodlands.
The charity says the issue stems from a lack of disturbed soil and natural light in wooded areas.
They are working with landowners to outline conditions needed for the survival of the flowers.
The conservation project is taking place in Pembrokeshire, Monmouthshire and Montgomeryshire.
"In most cases, people are surprised and delighted to know what they've got on their land," said Trevor Dine of Plantlife Cymru.
"We then give advice on what they can do to maintain the flowers and most of the time, some coppicing [woodland management involving repetitive felling on the same stump] is needed.
"Both species rely on disturbed soil and open woodland."
Natural light
Last year, Plantlife was asked by the Welsh government to outline vulnerable species of wildlife.
The Spreading Bellflower, which is blue when in full bloom, was found to grow on only 11 sites across Wales, with fewer than five plants recorded in some years.
The flower's seeds are however able to lie dormant for long spells and can bloom with some soil disturbance and natural light.
It is regarded as being in imminent risk of extinction in Wales within five years.
Bastard Balm typically attracts insects such as bees and the charity says fewer plants will have a knock on effect on other forms of wildlife.
Plantlife said the habitats for both flowers were "open to neglect" and it hopes to promote better woodland management by working closely with the Forestry Commission.
"We've got this view of woods being large and untouched and the idea of cutting a tree down and managing woodland in a more dynamic way is often seen as a bad thing," added Mr Dine.